On Tuesday 20th November, the Fukuoka US Consulate Principal Officer, Ms Margo CARRINGTON, visited APU for an informal discussion with APU students and met with the university president, Mr Monte CASSIM.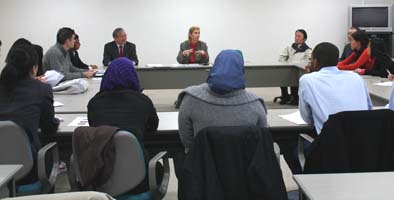 At the discussion with the students, Ms Carrington gave an outline of the work carried out at the consulate and everyone enjoyed the lively question and answer session.
Then in the meeting with the president, Ms Carrington and President Cassim exchanged opinions about the various activities that the students participate in and expressed the possibility of working together in the future to set up various programs.
Approximately 43 students from the United States are currently pursuing their studies at APU and this informal discussion proved to be a very rewarding opportunity for the students who attended.
This meeting is also reported on the website of the American Consulate Fukuoka.
http://japan.usembassy.gov/fukuoka/f-main.html