The 1st Asia-Pacific Water Summit was held in Beppu from 3rd 4th December 2007 and was attended by around 300 heads of state and government representatives from 49 countries and regions around the world. The aim of this summit was to create discussion between heads of state and world leaders to initiate a new plan and a new course of action for a solution to the water problem in the Asia Pacific region. The opening ceremony, held on Monday 3rd December, was attended by His Imperial Highness the Crown Prince of Japan and His Royal Highness Prince Willem-Alexander of the Netherlands.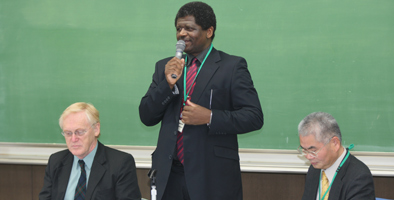 On the same theme, the "University Students' Water Forum of Oita" organized by four universities in the prefecture, Oita University, Nippon Bunri University, Beppu University and APU, was held on Monday 3rd December.
At this forum, seven students affiliated with the participating universities presented papers and exchanged results on studies and analyses on the various problems concerning the water of Oita Prefecture and the Asia Pacific region. From APU, Khin Myat Nwe's (GSAD, Myanmar) paper on "Non-Revenue Water and Water Sustainability: A Case of Yangon City Water Supply System" and ESERA Tupepepa's (GSAD, Samoa) paper on "Water Governance and Water Security: Issues & Challenges for Samoa" were both presented. At the discussion afterwards, the participants exchanged opinions and were able to deepen their understanding of the current status of water issues in general.
Furthermore, a "Water Training Program" organized by APU and the Ministry of the Environment was held on Wednesday 5th and Thursday 6th December, and Japanese and foreign researchers held workshops on several themes including "Enhancing Water Security in the River Basin Context" and "Infectious Diseases and Water Management"
At the 1st Asia-Pacific Water Summit, approximately 200 APU students participated as volunteers, assisting with the running of the event and the welcome reception, and attending to the world leaders and guests.
The student in charge of the reception, VARMA Ankit (APM 4, India), gave his impressions of the first day and said, "Because this was my first time working at this kind of function, I was a little confused in the beginning, but I was soon able to use my initiative and figure out the best approach for myself. Coming into contact with so many people proved to be a great experience for me."