On Wednesday 12th December, a seminar organised by the Ritsumeikan Centre for Asia Pacific Studies (RCAPS) was held at APU. The Republic of Indonesia Ambassador to Japan, Dr Jusuf Anwar, was invited to host the seminar and gave a lecture on the theme of 'Globalization in Southeast Asia'.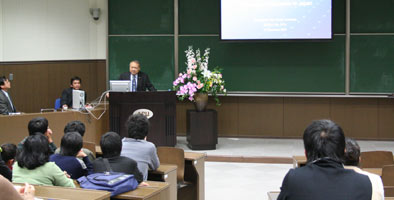 After speaking briefly about Indonesian political history, Ambassador Anwar continued to talk about globalization and relations between Japan and Indonesia.
In a question and answer session with the attending students, there were many questions on the subject of global capitalism and deforestation and Ambassador Anwar took the time to answer them all one by one. At the end, he left the students with an important message, "Education is an investment, so do your best and work hard at your studies".