The APU Ladies Volleyball Club entered the 'Kyushu University Fall Ladies Volleyball League Fukuoka Tournament', which was held from 31st October to 3rd November 2007. For the first time since its establishment, the brilliant APU ladies team won the 7th division and as a result was promoted to the 6th division.
They clocked up a magnificent result, by winning the individual team award for the 7th division and also being placed 1st, 2nd and 3rd for the serve award.
The APU Ladies Volleyball Club is by no means a team high in stature and their individual technique is no different to that of other school teams, but they have great enthusiasm for the game. "Have fun and go into each battle with a smile" is the mantra handed down by their predecessors, which the team members always keep close to their hearts, and through their outstanding teamwork they were able to achieve a great result.
When they took part in the tournament, members of other circles and clubs, graduate students and other people related to the university went along to cheer them on and this proved to be a great boost for the team.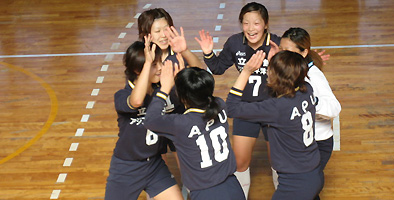 For their battle in the 6th division beginning next spring, the APU Ladies Volleyball Club intends to practice harder and with more enthusiasm and fun than ever, and in order to do that they want to recruit more friends than ever too. So for those of you who are interested in joining, they meet to practice every Tuesday during the 6th & 7th period and every Saturday during the 1st and 2nd period, so please drop by anytime!