On Saturday 1st and Sunday 2nd December, the 22nd National Convention of the Japan Institute of Tourism Research was held at APU.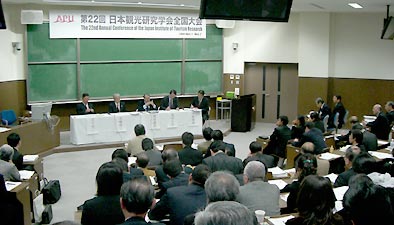 The theme of this year's convention was "Human Resource Development in the Tourism Industry" and Mr. Shimura Tsutomu, Director of the Commerce and Information Policy Bureau at the Ministry of Economy, Trade and Industry was invited as keynote speaker. Mr. Shimura gave a lecture entitled "Initiatives in the Cultivation of Human Resources in Hospitality Management".
This was followed by a panel discussion observed by an audience of 200 on the theme of "Human Resource Development in the Tourism Industry". The four panelists were Mr. Tanaka Kouji, Chairman of Kyushu Railway Company and Chairman of Kyushu Tourism Promotion Organization; Mr. Mizushima Shuzo, President of JTB Kyushu Corporation; Mr. Iizuka Yoshiaki, Advisor to the Ritz-Carlton in Osaka and Professor Fukutani Masanobu of the College of Asia Pacific Management at APU.
On the second day, the research presentation convention was divided into 6 subcommittees and around 85 people, including those active in the forefront of the tourist industry, specialists in tourism research and education, and students studying tourism presented the results of their respective research. 150 people observed the lectures.