In association with Kyung Hee University in the Republic of Korea, and with the cooperation of the United Nations Institute for Training and Research (UNITAR), the Ritsumeikan Asia Pacific Conference "Asian Cultures: Confluence and Divergence" was held at APU on 21st and 22nd January 2008.This conference aimed to further develop the multilateral debate on issues relating to Asia's cultural foundations, and in particular, its cultural similarities and diversities and the confluence and divergence of the various cultures in East Asia. Presentations were given not only by researchers and experts, but students of Kyung Hee University also gave research presentations and raised questions about Asian pop culture and traditional culture.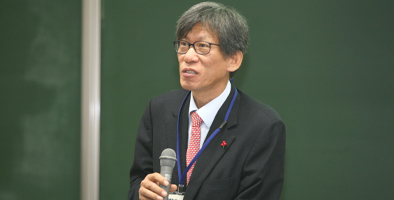 At the opening ceremony on the 21st, Ambassador YU Myung-hwan of the Embassy of the Republic of Korea in Japan expressed his hopes for the future, "The * 'Korean wave' has made possible the deepening of relations between Japan and Korea and thus contributed to mutual cultural interaction, and I hope in the future that the Korean wave will lead the people of East Asia into one regional society."
To continue, Mr YOU Hong-June, Director of the Republic of Korea Cultural Heritage Administration, gave a keynote speech entitled "How is the Cultural Solidarity of East Asia Possible?", which focused on the history of Korea, the growth of various East Asian countries in the 20th century and China's experiences in its history of foreign relations.
In addition, at the reception on the evening of the 21st, APU's Division of International Cooperation & Research signed a 'Research Cooperation Agreement' with Kyung Hee University's Communication & Research Centre.
(*The Korean wave refers to the recent surge of popularity of South Korean popular culture in other countries, especially those in Asia.)