On Friday 18th January, the Consul General of India in Osaka, Mr Om Prakash, visited APU to give a lecture to students and to meet with APU President Monte CASSIM.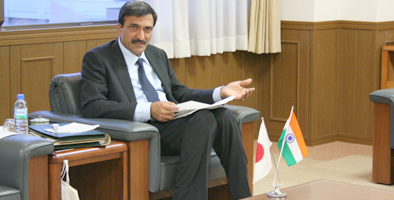 The Consul General gave a lecture to six international APU students on present-day India and Indo-Japan relations based on historical circumstances, and talked about how the relationship between India and Japan was established. This lecture proved to be a very rewarding experience for the students who attended.
The day of the Consul General's visit was also the last day of APU's Fall Semester Multicultural Week program, with the "India Week Grand Performance" as the grand finale. Mr Prakash was happy to accept an invitation to the Millennium Hall and enjoyed the traditional Indian music and dance performed by the students of APU.