On Saturday 26th January, the formal inauguration of the APU Taiwan Alumni Association and the APU-Club Taiwan Students' Parents Association took place at the National Taiwan Normal University.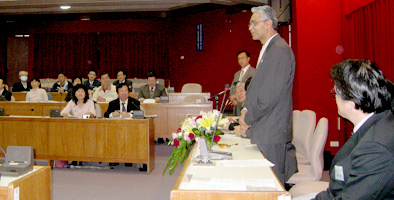 The APU Taiwan Alumni Association was formed as a subsidiary of the Ritsumeikan Taiwan Alumni Association in October 2007, but with the recent establishment of the APU-Club Taiwan Students' Parents Association, a joint opening ceremony was held for both associations with around 50 people in attendance.
Professor WANG Mariner hosted the ceremony and invited APU President Monte CASSIM to say a few words. The president expressed the value of personal networks and spoke of his hopes for mutual collaboration in order to expand APU's presence in Taiwanese society in the future. APU Vice President, Mr. TAKASUGI Tomohiko, then explained the sequence of events leading to the establishment of the two associations.
To follow, Mr. LIU Chia-Wen, who assumed office as the president of the APU Taiwan Alumni Association after graduating in 2004, and Mr. CHAN Mu Pin, president of the APU-Club Taiwan Students' Parents Association, both made inauguration speeches. Final congratulatory addresses were then made by Chancellor of the Ritsumeikan Trust, Mr. KAWAGUCHI Kiyofumi; President of the Ritsumeikan University Alumni Association, Mr. YAMANAKA Makoto; and in his absence, by the wife of Ritsumeikan Taiwan Alumni Association President, Mr. HSUEH Chien-Long.
After the ceremony, an academic symposium entitled "The Future of Higher Education in the Era of Asia" was held in a large lecture hall at the same university. APU Associate Professor LIU Jung-Ching hosted the symposium and Dr. LEE Yuan Tseh, Nobel Prize Laureate in Chemistry and President of Emeritus and Distinguished Research Fellow at Academia Sinica, delivered a keynote speech on the theme of "The Challenge of Higher Education in Asia". This was followed by a panel discussion between Dr. LEE, APU President Monte CASSIM and National Taiwan Normal University President GOU Yih-Shun. A question and answer session was also held with the audience and the symposium appeared to be a great success.
Following President CASSIM's greetings at the reception, a toast was made by National Taiwan Normal University Vice President CHEN Jo Chiung-Hua, who visited APU on a previous occasion. Symposium participants including students, alumni, parents, members of the public, and university faculty and staff enjoyed socializing together afterwards.
During all the pleasant chatter, APU visiting professor, Mr. CHEN Zu-Chung also made a speech and everyone appeared to have a pleasant time taking photos and using this opportunity to mingle and widen their networks.