On Tuesday 29th January 2008, the "AY 2007 Oita Prefecture Ceremony for Recognition of Foreign Students' Contributions to the Local Community" was held at the government offices of Oita Prefecture. One APU student, Ms. Marlin Lao TAMBOWON (APS4, Indonesia), was selected to attend in recognition of her contributions to the local community.
Beginning this year, Oita Prefecture established this new system to acknowledge the contribution of students in initiatives for the local community, and a total of six students were selected from universities in Oita, including APU.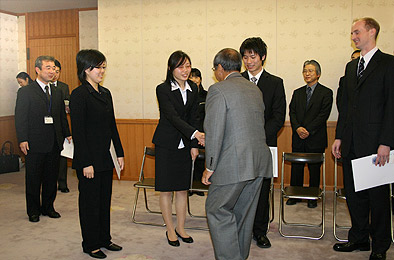 Ms. Tambowon reports below about what she gained from her participation in local initiatives.
"Since coming to APU, I have participated in many community events introduced to me by the university and I am very grateful for the opportunities that I have been given. By taking part in events such as a forest development fair, local festivals, study tours to local tourist spots, company visits, and also a home-stay, I was able to interact with a wide range of people.
I also recently took part, as a student volunteer, in the "1st Asia-Pacific Water Summit" held in Beppu from 3rd to 5th December 2007. Attending to world leaders and honoured guests, I interpreted for many people and exchanged opinions about Japan and my home country of Indonesia, and it proved to be a great experience for me.
By participating in these kinds of events, I was able to deepen my understanding and gain more knowledge of the local culture and customs. The local people are very friendly and appreciate students' efforts to learn Japanese, and I was therefore able to use and improve my Japanese language skills as a result.
I am very flattered to receive recognition for participating in community activities, something that I am interested in and enjoy very much. This is a great honour and an unforgettable memory in my APU life. I intend to continue to do my part in contributing to the local community and hope to gain many more valuable experiences."