Spotlight interviews the current manager of the APU Cafeteria and introduces his successor.
What exactly does the manager of the APU cafeteria do each day? How does he ensure that over 2000 daily diners are given the choice and selection of food that will meet their tastes and requirements? With such an international clientele the cafeteria is not your typical Japanese restaurant. Many students have specific requirements, like halal meat, or a vegetarian diet. Spotlight wanted to know more, so we caught up with the manager NAKANISHI Shirou.
After a period working at the Kyoto University Cafeteria, and a 3-year stint at the Kyoto Business Association of University Cooperatives, Mr. Nakanishi commenced work at APU during its foundation year in 1999. Five years have since past and Nakanishi reflects on his time spent in the kitchen.
"In the early days," he said, "It was difficult working out how to accommodate the tastes of the international students. I had no prior experience in this area, and was at a loss at what constituted an 'oishii' (delicious) dish from the perspective of an international student."
He continued, "The APU cafeteria is the restaurant of choice for many AP House residents, so I felt the weight on my shoulders to come-up with some recipes that would be welcomed by the multicultural campus."
Mr. Nakanishi explained, "I didn't want the students to feel homesick and want to get on the next plane home because there weren't adequate meals available at the Cafeteria!"
Mr. Nakanishi spent many laborious hours in the kitchen experimenting with different recipes with the help of several international students. He believes that it probably took almost a year, but the trial-and-error finally paid off and he felt happier about the Cafeteria's offering. Currently, the daily menu includes a range of international dishes, and over 200 recipes have been collected for use in the "Ethnic Corner."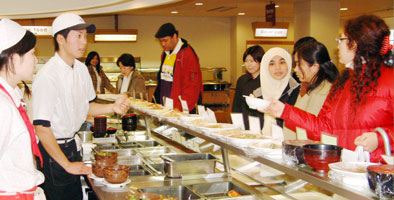 Another challenge that Manager Nakanishi has faced during the past 5-years is providing meals suitable for vegetarians and Muslim students. He said that he found it a constant challenge to provide culinary diversity and to source appropriate ingredients, explaining that there are variations in vegetables from country-to-country, and that it is often difficult to reproduce some international dishes.
Also, sourcing halal meat was a major challenge initially. Mr. Nakanishi explained that there is almost no halal meat industry in Japan, so all meats have to be sourced from overseas. The exorbitantly high price of halal beef makes its use uneconomical, and since last year's outbreak of avian influenza it has become increasingly difficult to obtain a regular supply, but "we keep trying" he says. However, that has not stopped Mr. Nakanishi from making the APU Cafeteria as 'multicultural' as possible.
In charge of 30 permanent staff members, many of which have solid work experience in the Japanese food industry and 30 APU students also help out on a part-time basis (6:4 ratio of international to domestic student workers), Mr. Nakanishi has a great team to help him. But the average day is still a long one. To ensure that everything is running smoothly in the APU Cafeteria, he typically works a 12-hour day, arriving at the 'office' around 8am and finishing around 9:30pm each night.
The APU Cafeteria is not afraid of using the latest technology, and a computer software program, Menu Master System, is used to calculate how much food is required on a daily basis. It can also cleverly compute the nutritional value of each food item sold in the Cafeteria.
The job of the Manager at the APU Cafeteria appears to have its highs and lows. In order to meet all the different tastes and requirements of the students, a lot of planning is required, particularly for social gatherings. However, Mr. Nakanishi said that all the hard work pays off when you see the smiles on the faces of the international students.
Unfortunately, due to an internal transfer, Mr. Nakanishi will be leaving us this month to continue his food career at Ritsumeikan Biwako-Kusatsu Campus. He has certainly added spice to the APU Cafeteria and we would like to thank him for his contribution and wish him the best with his move to Kansai. His successor, MURAO Yukio, comes to APU with 7 years of experience working for the Kyoto Business Association of University Cooperatives and is eager to don his chef's hat and cook up a storm at APU. Mr. Murao said that he hopes to create a pleasant working environment and relationship with APU students. We wish him good luck and look forward to trying his culinary delights.
*NAKANISHI Shiro has worked as the Manager of APU Cafeteria since 1999 till March 2005. His successor, MURAO Yukio from Kyoto took up the managerial post from the end of February, 2005.