APU Students Taking the Challenge

"e-ducation Without Borders" - International Student Conference in Abu Dhabi
Last month, hundreds of students from different colleges and universities, from far flung corners of the world and from different cultures and ethnic backgrounds, gathered for three days to discuss global issues in education at the "e-ducation. Without Borders 2005" (EWB 2005) International Student Conference in Abu Dhabi, United Arab Emirates. This is the third conference of its kind and out of the 14 delegates who represented Japanese Universities, 10 were selected from APU. Spotlight talks with two APU delegates, YUI Masashi and ANSAH Emmanuel about their involvement at the prestigious conference.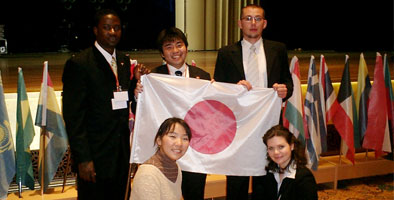 By students, for students

The e-ducation Without Borders International Student Conference is unique in that it is run by students, for students. And one of our own - APS student, YUI Masashi was honorably nominated to be the representative of Northeast Asian countries on the World Student Organizing Committee (WSOC). The WSOC consisted of 28 students from 18 nations to represent major countries and regions. This was the first time a Japanese student was selected for one of these key positions. Upon hearing of his nomination, Masashi said "That he felt honored to be selected and felt the responsibility on his shoulders to adequately represent Japan in the Middle East - a region of the world that he wasn't very familiar with."

Planning for success

He explained, "That preparations commenced more than a year before the conference, and that he was busy helping to select the conference theme, plan workshops, invite speakers, and assist with promotional activities in Northeast Asia." He added that there weren't many Japanese delegates in the previous conference, and that his number one priority was recruiting more Japanese students. He was able to achieve this and more, and during the conference he was also given the responsibility of being the head of Technical Demonstrations - a type of expo presenting the latest e-learning technology from global IT companies.




Multicultural environment similar to APU

"The most important thing I gained from being part of the committee" he said "Was trying to adequately represent Japan and put across my opinions among a group of people from such a diverse background." He added, "It was quite a feat considering that for many committee members English is their second language."

The experience of studying at a multicultural environment at APU appears to have put Masashi in good stead, and in Masashi's words "The experience of participating in a 'Real-life' international conference has given me greater confidence and a handful of new international friends." After the conference's success, Musashi said that he hoped to represent Japan in the International arena again.

Delegate's point of view

ANSAH Emmanuel (APM, Ghana) also travelled the long flight to the Middle East for the International Student Conference. And like his peer Masashi, gained a lot from participating in the three-day conference. "The conference was a great success" said Emmanuel "I felt privileged to have the opportunity to interact with delegates from diverse cultural backgrounds, and tell them about APU."




Presenting Japan to the world

Emmanuel explained that it was his second time to represent APU at the conference in Abu Dhabi and through sharing his experiences; his fellow delegates seemed to have a heightened interest in APU and Japan. "Foreign knowledge of Japan can sometimes be limited" explained Emmanuel, "And I strove to present a more realistic picture than the common stereotype."

Academic Stimulation

He added that the conference was a successful medium in exchanging information, ideas and concepts regarding e-learning. "Being exposed to cultural diversity and a range of different philosophies - or ways of thinking - also led us delegates to think about the importance of mutual understanding and respect" explained Emmanuel. The high profile speakers also motivated the participants who presented different perspectives about issues concerning e-learning. "Seeing the latest developments in global technologies and how they relate to the e-learning process was also very exciting" said Emmanuel.

Its one thing studying about theory, but participating in an international conference gives students much more as both Masashi and Emmanuel testify. Both students have come back from the conference bursting with motivation and hoping to continue playing keys roles in ensuring that our world is a place where e-ducation truly knows no borders. We salute their efforts and hope other APU students will follow their example and contribute to the e-learning process.