Ms. Katarina Marsha Utama Nugroho (APM2 Indonesia) was selected as a finalist to the "INTERNATIONAL ESSAY COMPETITION 2008" by World Bank and attended a final stage contest in Cape Town, South Africa on June 9th and 10th. Out of 3,287 contestants from 148 countries and regions, the top 8 participants including Ms. Katarina Marsha Utama Nugroho were selected. All expenses including travel and accommodation during the competition were fully sponsored by the World Bank.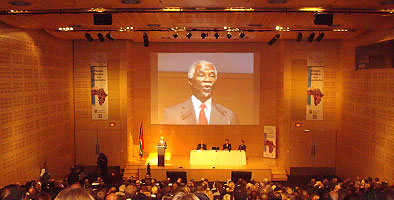 The top 8 participants were eligible for the final round which was held at the same time and place as the ABCDE conference (Annual Bank Conference of Development Economics) organized by the World Bank. The winner was awarded a grand prize of $5,000 during the closing session of the ABCDE conference and also given an opportunity to briefly address the audience. The ABCDE is one of the world's best known series of conferences on development where many of the world's finest development thinkers gather to present their ideas.
The 2008 Essay Theme was "What can you do to shape the city of your dreams?" and the winner for this year was SAPTARSHI Pal from India.
Representative from APU, Nugroho wrote about her hometown, the capital city of Indonesia, Jakarta. She proposed a win-win idea for youths to come up with a plan and raise funds within 3 months and contribute to less fortunate children - especially towards their education - in order to motivate each other. Her ideas were build on the significance of "Investing in people as solutions to poverty and social issues".
Ms. Nugroho commented on her experience and stated, "I met the other seven finalists and had quality interactions with leaders from all over the globe which was really an experience. A great opportunity to hear the speech from the president of South Africa directly was offered us during the conference. The competition is over, but this will not be the end. It's the beginning. Through this, I discovered more about myself and my future plan". After completing studying at APU, Ms. Nugroho aspires to pursue an MBA degree and have her own company targeting to reserve scholarship funding for the education of less fortunate children.