On Wednesday, June the 11th, APU hosted the NPO Japan Water Forum sponsored "Youth World Water Summit 2008." 43 predominantly APU students from 20 countries were involved in a lively discussion about "World Water Problems and What Can We Do?"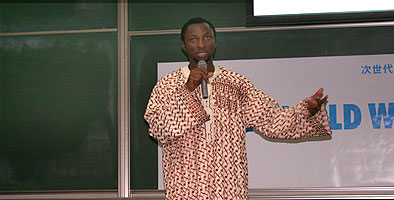 Approximately 200 students volunteered at the "1st Asia-Pacific Water Summit" held in Beppu last December, at which Prime Ministers and officials from several countries and regions discussed current water issues. This formed the background for the recent Youth World Water Summit, which was attended by youths from several countries, each talking about the water problems their country faces. The summit aimed at encouraging participants to share information and, from a young persons perspective, the drafting of action plans to resolve these issues.
Mr. Kenichi TSUKAHARA, Project Leader of the Japan Water Forum, gave the opening words, saying "your awareness and actions about water problems are helping to spread the movement towards mitigating these issues. I hope that this awareness from a young age and continuing involvement will lay the foundations for you being able to represent your country at international conferences about water issues in the future." Following this, APU President Monte CASSIM and Oita University President Mr. Tadashi HANO, also representative of the Oita Water Forum Foundation Committee, offered the key note speeches. Four universities in Oita are organizing the Oita Water Forum, to be held in July this year.
Students from 20 countries made presentations (using power point etc) on the current water issues their countries face, and possible solutions for mitigating these problems.
Spanish students pointed out that the low cost of water in Spain is the reason that people have a low awareness of water issues. Students from the oil-producing nation Nigeria reported that the spills made while drilling for oil are jeopardizing the environment, contaminating the underground water supply and causing detrimental effects to mangrove ecology. They commented on the urgency behind using biotechnology and other techniques to eliminate water contamination.
In the closing session, students reaffirmed their commitment to working towards the mitigation of water issues, presenting action plans for each country that included the addressing of environmental education.
NPO Japan Water Forum Official Website
http://www.waterforum.jp/jpn/