On Thursday, June the 19th 2008, a signing ceremony for a friendship and exchange agreement between Kunisaki city and APU took place at the Oita Prefectural Office.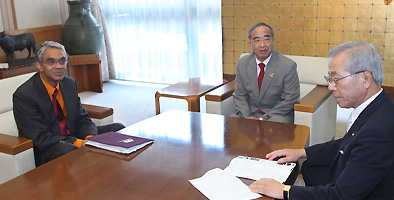 Both the Mayor of Kunisaki city, NODA Tadao and APU President Monte CASSIM attended the ceremony, where they signed an exchange agreement along with official witnesses HIROSE Katsusada, Governor of Oita Prefecture, and MOROTOMI Tadashi, Chairman of Kunisaki City Council. Governor HIROSE evaluated the agreement, saying "Kunisaki is a historical city well known for its ROKUGOU MANZAN culture. The city is looking to start something new and I believe that this agreement with APU will end up being beneficial to both parties involved."
Mayor NODA said, "human resources are the key to urban and rural development. While valuing an international perspective, we want to do something that contributes to the development of both Kunisaki City and APU." President CASSIM said, "APU's close ties with and support it receives from the local community are the main reasons that young persons from around the world can study safely and enjoy their student life at APU. We want to open up the possibilities for academic and other exchange with Kunisaki, a city rich in tourism resources."
With a population of approximately 34,000 people, Kunisaki city is located on the Kunisaki Peninsular in the northern part of Oita Prefecture. It has many historical temples and shrines and is widely known throughout Japan as the Hotoke (stone Buddha) village. The group of temples located in the Kunisaki peninsula are called "ROKUGO MANZAN."
APU works hard at organizing and carrying out activities with local residents. To date APU has formed friendship and exchange agreements with Oita Prefecture and 9 cities and regions both within Oita and other prefectures in Japan, including Kunisaki City.