A Training Program delegated to APU by the Japan International Cooperation Agency (JICA) entitled "ASEAN Regional Industry Promotion" is being held in APU from 15th June to 5th July 2008 and is attended by 12 trainees from 5 countries. Lectures, group discussions and visits to several OVOP locations in the Oita area are conducted as part of the ODA Technical Cooperation Project, and the trainees are made to learn about regional development methods through the One Village One Product (OVOP).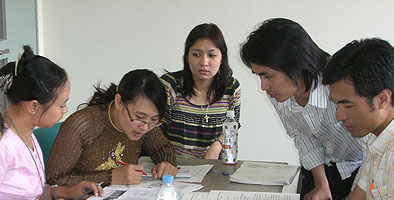 The trainees are government officials or University instructors from Cambodia, Laos, Myanmar, Vietnam and East Timor. The OVOP Movement has widely spread with ASEAN as the center. The trainees have come to Japan to learn the techniques of the OVOP movement. 3 officials from East Timor, a country which has attained independence in 2002, are participating in the training and are considering how to sell and export their products such as rice, peanut, and coconut oil as part of the OVOP movement.
In the afternoon of June 23, the course leader of the seminar, APS Professor MIYOSHI Koichi, facilitated a group discussion. The trainees were divided into 2 groups and discussed how one can develop a region by listening to the people of the community and not the government officials and what can be done to enhance the ability of the community to add more value on their specialized products. Professor MIYOSHI worked for JICA for approximately 25 years and led many projects concerning region development in the Asian Region and public sector evaluation. He proposes a positive development formula: "not only should we raise the things that are needed, but also discover what can be done to improve the present situation"
One of the trainees, PRAK Socheat, was also a graduate from APU Graduate School (International Cooperation Relation Studies) last autumn. He is a Cambodian government official and works as an Assistant to the General Secretaries of OVOP National Committee, Office of the Council of Ministers. He commented, "I am very happy to come back to as a trainee APU, where I studied for 2 years. I enjoyed Beppu ONSEN again. I want to study hard in order to be able to export our special products such as Golden Silk and Mango to the world."