On Wednesday July 2nd 2008, 33 APU students participated in a volunteer cleanup and observed the different forms of wildlife at Nakatsu Tideland. This activity was planned by APU in order to get students to study Oita's wildlife up close, and contribute to the local community by participating in a cleanup to help preserve the tideland environment. After spending the morning listening to a lecture, the students departed on a chartered bus for Nakatsu city.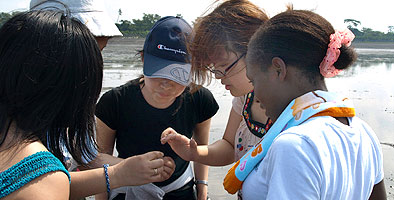 Nakatsu Tideland is located offshore in the northern part of Oita Prefecture. The tideland, one of the largest in Japan, boasts high quality mud and sand. The tideland is also home to rare wildlife such as the Helmet Crab and the macroinvertebrate Lancelet. It is also known as a wintering spot for the SUGURO Gull, listed on the Ministry of Environment's endangered species 'Red List'. The gulls migrate from China each November.
This event was organized in cooperation with MIZUBENI AOSBUKAI, a Non Profit Organization active in wildlife observation, beach cleanups and survey and research activities, focusing on the Nakatsu tideland. The organization is also actively involved in environmental education in Nakatsu city, and works closely with public organizations to hold a variety of activities.
Participating students spent between 2pm and 3pm picking up rubbish that had washed up on the tideland. They also observed the various wildlife, and went through and checked all the collected rubbish. Students then moved on to the "Yamakuni Education Center", a center for environmental learning administered by the Ministry of Land, Infrastructure and Transport. At the center students listened to a lecture by a member of the MIZUBENI ASOBUKAI, on the current state of the Nakatsu tideland and ways in the which the organization is working towards the tideland's preservation. Through the course of the day students were able to deepen their understanding on environmental issues.