On Monday, June 30th 2008, the APU Speech Contest was held at the APU Millennium Hall.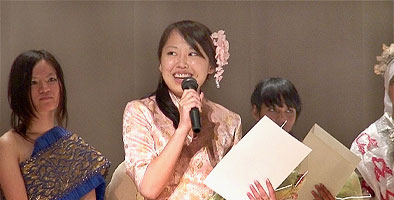 APU is home to a large number of students actively pursuing their studies in the Asia Pacific languages (AP Languages) which include Chinese, Korean, Spanish, Vietnamese, Thai, and Malay/Indonesian. The APU Speech Contest is held annually to offer the students an opportunity to put their language abilities to the test. The panel of judges included KORENAGA Shun, Director of the AP Language Department, faculty members from each AP Language department and student volunteers whose mother tongue are the AP Languages.
This year's theme was "Intercultural Experience-Language is a bridge of the world ". A total of 18 students (3 students for each language) who had passed the preliminary round and one student who was selected as a special participant of the Planning Committee took to the stage to deliver a 3 minute speech that required them to muster all their learning of the history and culture of the language they are studying.
Some students wore traditional costumes and the ethnic dance during the break added to the fun.
The winners are as follows.
First prize : KAWAI Hiromi
title:"Teacher? Friend?"(language:Chinese)
Second prize : Vidya Dhanika Rasthri
title: "The importance of learning the culture of languages"(language:Spanish)
Third Prize : SHIMAZU Aki
title:"Meeting is a precious friend in life"(language:Malay/Indonesian)
Award of AP Language Department : ASANO Yuu
title:"My Korean"(language:Korean)
The speech contest was co-sponsored by the following corporations.
All Nippon Airways Co., Ltd.
Kyushu Railway Company
Oita Transportation Co., Ltd
Kansai Kisen Co., Ltd
Creotech.co.,ltd
BEPPU JIGOKUKUMIAI Corporation
The Beppu Chamber of Commerce and Industry
Beppu-Kankou-Kyoukai