The first New Horizons for Student Mobility 2005 conference was held at Ritsumeikan Asia Pacific University, Beppu, Japan on the 21st– 23rd March, 2005.Since 2004 the International section of the Academic Office at APU has been striving to bring Student Mobility into a new realm. In recent times, there has been a great movement in Japan towards nurturing Japanese students, in particular, who can function efficiently and effectively using English in the business world. We are currently in the process of a dramatic upscale in all areas of student mobility and aim to send approximately 700 students abroad annually by 2007.
With this goal in mind, APU hosted a conference for International Office staff from our renowned partners around the world to provide a forum for sharing of experiences and knowledge. A number of keynote speakers also made significant contributions to the conference presenting their invaluable insights in the areas of student mobility and international strategy.
New Horizons 2005 gave us all the opportunity to be inspired as we work towards a common goal in education. Delegates from thirteen countries attended the event and despite the incessant rain, enjoyed a tour of APU facilities as well as the various sights and culinary delights of Beppu during their three day visit.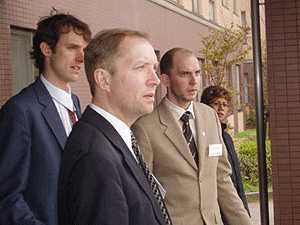 ]
Participating Universities and Institutions:
Macquarie University, Australia
University of Applied Sciences bfi Vienna, Austria
University of British Columbia, Canada
Copenhagen Business School, Denmark
The Chinese University of Hong Kong, Hong Kong
Global Development Network, India
Nanzan University, Japan
Ewha Womans University, Korea
Korea University, Korea
University of Bergen, Norway
Singapore Management University, Singapore
Lund University, Sweden
University of Westminster, UK
University of Hawaii, US
University of Wisconsin Oshkosh, US
The University of Oklahoma, US