South African Ambassador to Japan, His Excellency Dr. Baldwin Sipho Ngubane, and his wife visited APU on July the 15th, 2008. They engaged in talks with APU Vice President Malcom COOPER, Dean of International Cooperation & Research Kazadi SANGA-NGOIE and APS Professor. Jeremy S. EADES. Ambassador Ngubane and his wife, who are looking to adopt effective ways to aid the development of the South African economy, asked a variety of questions about Oita's One Village One Product Movement and APU administrative policy.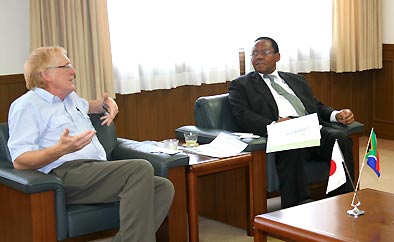 After appreciating APU's beautiful campus and views Abassador Ngubane and his wife asked how APU managed to recruit so many international students from such a diverse number of countries. Vice President COOPER explained that, in addition to the various university pamphlets and publications used to market the university, APU also utilizes the large network that APU and the Ritsumeikan Trust have with academic institutions around the globe, and in turn the networks of these individual institutions. Professor SANGA said "when APU first opened there were very few international students from Africa. However, the recent efforts put into recruiting more African students and the positive word about APU that African alumni are spreading has lead to an increase in student numbers." Ambassador Ngubane said, "we can learn a great deal from the regional comparative studies into countries in Africa and Asia that continue to develop economically and socially and those leaser developed countries that still face problems of poverty. It is our hope that the African students bring the knowledge and skills they acquire during their studies at APU back to Africa and use them for the development of our region."
HLABANE Bheki Harrison(GSAD2), a journalist from Johannesburg, South Africa is pursuing his PhD studies at APU. He is conducting research into the impact of sport mega events, specifically the FIFA World CUP. Of particular interest to his research is experiences of the 2002 Korea Japan World Cup and lessons that can be learned for the success/benefit of the 2010 South Africa World Cup. He joined the meeting with Ambassador Ngubane.