On Wednesday the 16th of July, "Shinjin Performanse-Kiwami-" was held in the APU Millennium Hall. Many APU students and local citizens came along to watch.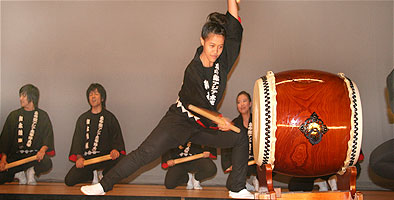 For this presentation, 6 APU circles such as the Japanese Taiko drum and the Noh theatre circle combined. The event was planned by the Event Executive Committee. The title is usually read "Shinshin" (meaning "an up-and-coming" or "young and spirited") but in this case it is read as "Shinjin" (which means "new comer"). This is because there were new faces in the presentation and was also a chance to express the new structure of the various traditional circles. The thoughts of "taking in the entertainment which the seniors have reached, showing all their strength and making it the best ever play" were put into the title "-Kiwami-"
The play had two parts to it - the first section was opened by the group "Mai Raku" with the dance "Nakano Nanazumai", which hails from Iwate Prefecture, which asks for staple grains and a good harvest. The crowd gave shouts of encouragement and enjoyed the students dressed in their splendid costumes. Next,the "Japanese Taiko drum Raku", the Noh theatre circle, "Yossha koi" and others showed their unique flavors and was a result of all the practice they had put in.
Currently at APU there are more than 100 registered extra curricular activities and there are traditional circles, both Japanese and international, which are practiced daily.