On Wednesday the 23rd of July, the 2008 Spring Semester Information System Assistants and Library Assistants Conferral Ceremony was held at the APU Convention Hall.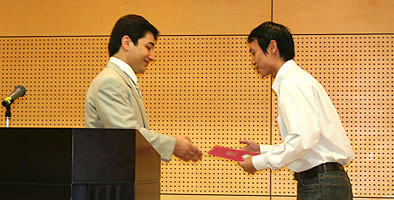 The Information System Assistants are called Information "SAs" on campus and provide support when technical problems occur in the information processing facilities. Furthermore, the Library Assistants are called "LAs" and provide support with the running of the library and the students' research and studies.
The ceremony was held to present the 2 SAs and the 7 LAs who are due to graduate in September this year with their certificate of recognition for the completion of their long years of service. At the ceremony Deputy Director Media Resource Center Davar PISHVA offered these words "Congratulations for fulfilling your strenuous duties as SAs and LAs while at the same time pursuing your studies towards your graduation. We thank you for the hard work you have put into the library. You can be proud of the fact that you were selected to become SAs and LAs and have fulfilled your duties. The fact that you were chosen to be SAs and LAs shows that you all have great ability. Life is full of good times and bad times. When faced with hardship don't give in, instead remember the times when you enjoyed success and once again be positive towards the future." Afterwards Deputy Director PISHVA handed the students their certificates.
DO Tuan Hung (APM 4, Vietnam), one of the LAs who received their certificate of recognition, said "It is an honor to receive this certificate. The job of an LA is thought of as being "Raku" (the Japanese character for "easy"). I agree with the choice of character but not with its reading. I think that it should be read as meaning "joy". (Japanese characters often have many different readings/interpretations) We LAs have brought such events as the "Manner Campaign" and the "Magazine recycle Fair" so as to make the library a better place for everyone to use.
SA SETOGAWA Atsumi (APS4, Japan) said "Over the 4 years I have worked as a SA I have been able to improve my knowledge of computers, expand my network and grow as a person. After I graduate I plan to work in the Public Relations field and I will work to be a responsible employee. Furthermore, to my junior SAs, your experiences as SAs will definitely be helpful in the future. Please make your time as students a time without regrets." To which the juniors responded with a cheer.
It is expected that the knowledge and experience gained as LAs and SAs will open up pathways for the students in their future after graduation.