On Friday the 25th of July a signing ceremony was held at the Oita Prefectural Office to conclude the Friendship and Exchange Agreement between APU and Hita City. Hita City, which aims to promote its area while utilizing its human and natural resources, and APU, which aims to use the agreement as a chance for international education to develop global human resources, will hence forth strengthen their relations through multifaceted exchange plans.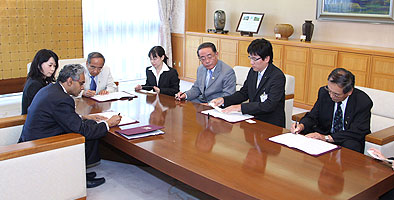 APU President Monte CASSIM and the Mayor of Hita City, SATO Yoichi attended the signing ceremony and together with official witnesses Governor of Oita Prefecture HIROSE Katsusada, and Chairman of Hita City Council NAKANO Yasutaka signed the agreement.
Hita City Mayor SATO Yoichi said "It is my dream to sell Hita's core industry of forestry out to the world. For that to happen, I want to acquire the forestry international standard recognition and develop forestry into a lasting industry. Furthermore, I expect the relations between APU students and Hita citizens will lead to a nurturing of human resources." President CASSIM said "Since APU's opening it has received a lot of support from the people of the region and has developed. Through the exchange of academic and regional activation, I want to create a framework we can both make use of. I want to add value to Hita's Forestry resources and endeavor so that this leads on to internationalization".
Governor HIROSE Katsusada offered these words of encouragement "I believe that the cooperation of Hita, proud of its ample natural resources such as water and forests, and APU with its students from many different countries and regions, will become fruitful in the future. Please tie together the development of both parties."
Hita is situated in the western part of Oita Prefecture and has a population of approximately 73600 The abundant water which flows from the Aso・Kuju and Hikosan mountain ranges flows in the Hita basin and people have been fond of "Hita, the water city" since the olden days. Furthermore, historically, Hita has been a traffic hub for northern Kyushu and has prospered politically, economically and culturally. Today the streets lined with neat rows of stores and houses, and culture are being passed down.
Currently APU has concluded 10 Friendship and Exchange Agreements with autonomies and organisations both in and outside of Oita Prefecture.
For the Hita City homepage please refer to the following address.
http://www.city.hita.oita.jp/