On Tuesday and Wednesday the 22nd and 23rd of July a group of 17 Teaching staff and students from Korea University visited APU and learned about the curriculum of the Volunteer Courses at APU and student activities of the APU student Volunteer Circle. Korea University is aiming to establish a campus volunteer center and this visit was an investigation for that purpose.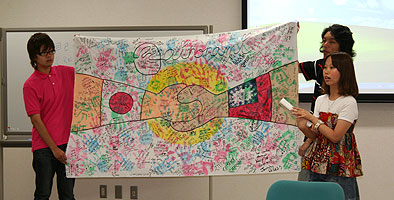 On the 22nd, the APU Volunteer Circles were introduced and members of "Ai no Nami" and "PRENGO" explained the Volunteer Circles activities using images which recorded their past activities. The students shared their thoughts towards volunteering and knowledge they have gained through volunteering activities. Afterwards, they answered questions and exchanged opinions.
"Ai no Nami" is a volunteer group which was conceived in 2004 to provide support for the victims of the Sumatra Earthquake and Tsunami. They have put into action such activities as street donation appeals, support events and disaster prevention education for children suffering from disasters. On the other hand, "PRENGO" is providing educational and fostering aid to a primary school in Thailand's Rayong Prefecture as well as promoting the "One Village One Product" Movement and aiding in the manufacturing and sales of goods.
During the speech Deputy Leader TAKAHASHI Yoriko(APS2, Japan)said that "It is now almost 4 years since the Sumatra Earthquake and our activities have moved from relief supplies towards the care of the hearts of the children who have suffered." Upon hearing this, Korea University students asked various questions such as "How do you collect the donations?" and "What precisely are you doing to care for hearts?" To which they introduced the grants they are receiving and such activities as how they cooperated with a primary school in Beppu to collaborate in making flags with the children from the disaster area.
One Korea University student said "Currently at Korea University activities which take the shape of volunteer circles are not popular. I want to hear more about the volunteer events actually taking place from APU students." The student spoke of his hopes towards establishing a volunteer center.
Afterwards, the Korea University group observed campus facilities such as the APU student dormitory (AP House) and the library before returning to Korea. A further group from Korea University plans to visit Waseda University and Rikkyo University in a similar way.