A Training Program delegated to APU by the Japan International Cooperation Agency (JICA) entitled "A Training course to enhancing local administration for Chilean Regional Industry Promotion" is being held in APU from the 17th July through to the 6th August 2008 and is attended by 12 trainees as part of the ODA Technical Cooperation Project. In addition to the lectures from APU Professors, the trainees have visited to several locations such as Hita City and Himeshima Village and listened to regional leaders' actual experiences of regional development methods.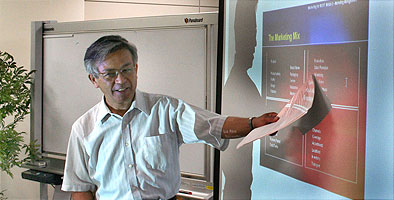 The trainees are mainly Chilean government and local officials. They are learning about theories and examples of the regional development to utilize policy-making and industrial development because the Chilean government promotes the decentralization of power.
APM Professor YAMAMOTO Susumu offered the lecture on 21st July. He pointed out that common products caught in severe price competition. Regional organizations should care about not only what kind of product but community empowerment, using the successful example of Oyama Area in the One Village One Product Movement.
On 23rd July, APM Professor TAKAMOTO Akihiro gave the lecture entitled "Marketing Brand Promotion." TAKAMOTO Professor said, "In order to sell brand products, it is important to have policy about the following things.1st: how to create the brand image, 2nd: what is the position of the products, 3rd: how to convey information about the products" using the examples of "SEKI AJI SEKI SABA" and "BMW". He used the passage of Chinese military treatise "The Art of War" by Sun Tzu "If you know both yourself and your enemy, you can come out of hundreds of battles without danger" and said "Please see what happens with your eyes and make a decision without biased thoughts." Each trainee made a presentation on the assumption of selling some products.
One of the trainees, Directress of the Agency for Productive Provincial Development of SUBDERE Ms. INZUNZATAPIA Mirtala Margot said, "Chile and Japan have different histories in politics, economics and administration. We can't adopt every Japanese successful example but utilize positively what we can adopt for Chilean regional development. I would like to make an action plan for Chilean regional development in this training session before his training session is over".