On Wednesday the 23rd of July 20 students from Iwata Secondary School in Oita, as part of the APU Ritsumeikan Course, gave their first presentations to an audience of APU faculty staff and students. Among the APU students were Iwata Secondary School graduates.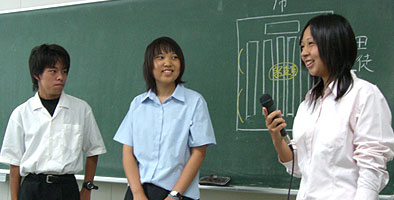 The presentations covered a range of topics such as Global Warming and Human Rights. The students took turns to talk and made use of Power Point during their presentations. Afterwards the students answered questions from the audience. The Human Rights group presented such historical examples as the persecution of Jews by the Nazis and the continuing problem regarding abducted Japanese nationals by North Korea. In reply to a question from an APU Professor "Would you like to go to Auschwitz in the future?" the student said that they would like to visit there some time to learn more about Auschwitz. The winning presentation group's topic was Mutual International Understanding and made use of the STUDIO GHIBLI animated film "Spirited Away" to explain their point.
APU President Monte CASSIM praised the students' presentations and admired the fact that the students were able to say "I don't know the answer" to the questions which they didn't know the answers to. As President CASSIM said "It is important even as a scientist, to say 'I don't know' to a question you don't know the answer to. It is not good to try and pretend to know the answer".
The teacher in charge of the APU Ritsumeikan Course, APU Associate Professor, IGUCHI Yufu, praised the students saying "They have worked very hard and investigated their topics thoroughly" also "the TA's have made a lot of time to prepare for the APU Ritsumeikan Course classes. They have worked very hard and have been meeting every week to make arrangements."
Since April 2008, Iwata Secondary School has been involved in the APU Ritsumeikan Course as part of the High School - University Cooperation Agreement forged between APU, Ritsumeikan University and Iwata Secondary School (May, 2007). On Wednesday every week APU teaching staff have been going to Iwata Secondary School and have been holding classes for 20 1st year high school students. In the morning Indonesian Language classes are being held with the support of 2 Indonesian TA's, current APU students. In the afternoon area studies classes are held with 5 TA's – 3 domestic and 2 Korean, also APU students. The presentations were the result of 4 months preparation. The goal of the APU Course is to deepen Mutual International Understanding.
Please click
here
to the Iwata Secondary School home page (Japanese only):
Please click
here
for more information about the "Iwata Secondary School, APU Ritsumeikan Course, APU Course 1"