On Thursday July 31st, "The First Local Networking Meeting with Ambassadors" sponsored by APU in cooperation with the Cabinet Office and the Ministry of Foreign Affairs (MOFA) was held at the Ritsumeikan Tokyo Campus next to Tokyo Station. It comprises of a total of 5 meetings. Each meeting welcomes Ambassadors from different areas. The first meeting welcomed African Ambassadors to Japan and embassy officials.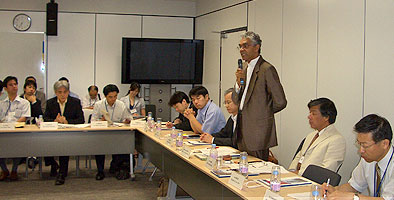 In addition to 7 Ambassadors and 4 envoys and counselors, officials from the Cabinet Office, MOFA, the Ministry of Economy, Trade and Industry and the Ministry of Land Infrastructure and Transport, representatives of local governments including Mayors and Vice-Mayors participated in the meeting. The APU International Cooperation & Research Dean SANGA-NGOIE Kazadi facilitated the meeting.
To begin with, APU President Monte CASSIM gave a greeting message. Acting Manager of the Cabinet Secretariat Regional Revitalization Bureau, UENISHI Yasufumi spoke of the importance of expanding international networks. And, the Mayor of Eniwa City, Hokkaido, NAKAJIMA Kousei introduced its educational revitalization measures. On behalf of the attending ambassadors, the Ambassador of the United Republic of Tanzania in Japan, H.E. Elly Elikunda Elineema MTANGO spoke on what kind of education systems African leaders want in Japan to cultivate the human resource of African students.
APU Advisory Committee continually supports APU. The committee is comprised of Japanese leaders in the world of economics and politics and ambassadors to Japan from 76 countries and regions. They offered a lot of support to APU including Ambassadors' lectures for APU students and providing chances for brilliant students of their countries to study at APU.
The remaining 4 Local Networking Meeting with Ambassadors to Japan meetings will beheld by next February with the theme "local diplomatic affairs as second track diplomacy, mainly education by local governance." APU provides an opportunity for Ambassadors to Japan, the APU Advisory Committee members and local officers to deepen their exchanges at a grass roots level to vitalize local areas and cultivate human resources.