APU graduate, Sameera GUNAWARDENA (Sri Lanka), who graduated in September, 2005 came first place in The 49th International Speech Contest in Japanese held in Saitama Prefecture on Saturday June.14th. He received the Foreign Affair Minister's Prize. The event was co-sponsored by such organizations as the Japan Foundation.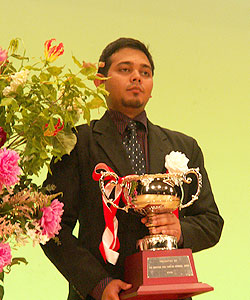 Sameera currently works for the AMA Tourist Information Center as a trainee in charge goods development in Oki, Shimane Prefecture. His speech title was "Youth, Idiot, and Alien" and he talked about his activities for the regional development of the island. He came first in the final competition where 12 out of more than 100 participants from 29 countries and regions attended. He also received the Audience Prize.
Mr. Sameera reflected on his university life at APU and related the following message to his fellow juniors: "I came to APU without prior knowledge of the Japanese language, however through communication with my university friends, professors and especially the local people of Beppu, I was able to learn Japanese well. I decided to participate in the contest so that I could convey something to others in Japanese and I am very honored to receive the Foreign Affair Minister's Prize. APU, with its international students and multicultural environment, is an ideal place to study. I suggest that international students actively interact with local residents since it is not only fun, but also provides you with tips in understanding Japanese manners and rules that are necessary for living in Japan."
The contest began in 1960. Since then, it is held every year, rotating the hosting place nationwide. The contestants who made it through the first screening were eligible to make a speech about their experiences and intentions in Japan in Japanese in the final stage. The participants are non-Japanese interested in Japanese Culture and Society. The Japan Foundation, a Ministry of Foreign Affair-afflicted Corporation is an organization that specializes in international cultural exchange in Japan.
For The 49th International Speech Contest in Japanese (Japanese only)
http://www.jpf.go.jp/j/japanese/event/benron/index.html
For information on AMA Town where Sameera works (Japanese only)
http://ama-sns.net/amana/