Spotlight interviews two of its first-round graduates - RITUPARNA Neha (MBA, India) and ROSE Darrell Keith (International Cooperation Policy, USA) and provides an insight into how the graduate school is helping to bridge the gap between academia and the real world.
RITUPARNA Neha (MBA, India)
Like most MBA students who pursue graduate studies at APU, Neha came to the Graduate School with a very interesting background, having done her bachelor degree in Mathematics from Hindu College, Delhi University, and then spent two-years studying Business Informatics (a combination of Management and Information Technology) in Mauritius. After carrying out a six-month IT-related internship, as well as an intensive one-year diploma in Japanese language at the Delhi University, she came to Japan for an MBA.
Why APU?
Neha explained that what made APU stand out from other Universities offering MBA programs was its English-base, focus on the Asia Pacific region and its unique major in Innovation and Technology Management. "I was able to pursue studies in a new field that that has wide-ranging business applications and which has the potential to revolutionize corporate management." She added, Japan is a leader in making innovative new products and it seemed appropriate to study in the "birthplace of innovation and technology."
As part of studies revolving around Geographic Information Systems (GIS), Neha pursued an independent field-study for one-month at Adroitec Information Systems Limited in India. In recounting the experience she said "It was a pleasure to learn firsthand from the well-learned CEO, and I became very motivated to delve further into GIS."
APU Experience
Neha reflected on her 18 months at APU and said "Living and studying alongside students from all around the world was stimulating and fostered interesting discussions." "My interpersonal skills developed further in APU's multicultural environment where English was not everyone's first language." "The expertise of the lecturers was also commendable, and I feel I have obtained specialized skills and knowledge to take into the workforce."
Neha continued, "I was pleased that there were avenues to provide feedback to the university, and even in the short 18-months I studied at APU, I felt the program was constantly evolving to meet the requirements of the multicultural student body and needs of society."
Future Aspirations
In April, Neha moves to Tokyo and plans to enroll in an intensive Japanese language course. She hopes to take her newfound knowledge and skills and find employment in Tokyo - the hub of business activities. "I hope to launch a career in management consulting, drawing upon my educational background and various multicultural and interpersonal experiences gathered from living around the world, to ultimately become a business analyst or strategic planner." "I am sad to leave APU but looking forward to the exciting prospects that lie ahead."
Graduating Sentiments - March 18, 2005
"It was an honour to be chosen to be the student representative of the Graduate School of Management and receive a degree on behalf of the graduating class." "And I feel very proud that I can be formally called an MBA graduate." "I don't really have words to describe how amazing I feel at this moment."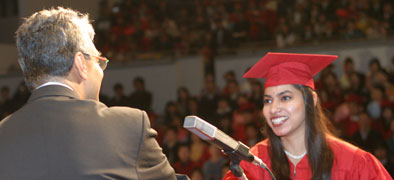 ROSE Darrell Keith (ICP, USA)
After a long career working as an IT systems analyst in Hawaii, Keith felt it was a time for a career change and investigated different graduate opportunities. His son, a current APU student and The University of Hawaii provided first-hand information about APU and the Masters in International Cooperation Policy looked like it would lead him in the new direction he hoped for.
Reflections
Keith said "The coursework was challenging, and meeting people from all around the world has positively affected my awareness of the world." During his studies, many doors of opportunity opened, and an RCAPS scholarship enabled him to pursue his interest in 'environmental industrialism' by carrying out a case-study on a bio-diesel plant in Maui.
"I am grateful I was challenged by expert Professors that exposed us to important thinking, knowledge and ideas in a multicultural environment, which is unique to APU." "I will never forget Beppu and the friends I made – the good food, wonderful onsen and campfire parties at the beach as we played guitars and sang."
He added, "I'll fondly remember our common academic struggle, sharing our cultures and our thoughts, growing together, debating the issues of our times, and sharing classes, lunches and hours in the computer,...so many memories."
APU's Mission
"I came to APU because I wanted to study in Japan, I wanted to be part of a student body that was truly international, and I was inspired and moved by APU's mission of enhancing world peace through mutual understanding and cooperation. I am happy that I made that decision and recommend APU to any discerning student."
Next Step
In April, Keith returned to Hawaii to pursue work opportunities and continue his current research. He explained that one-day he hopes to draw on his rich work and study experiences and establish his own consulting firm.
Graduation Day Thoughts - March 18, 2005
"I'm excited to be going home to the career possibilities that await in Hawaii, but it's also sad to be leaving my newfound home, Beppu where I've had so many wonderful experiences over the past 18 months." "I really hope to come back to see my son graduate in a year or two, and maybe even commence a PhD at APU."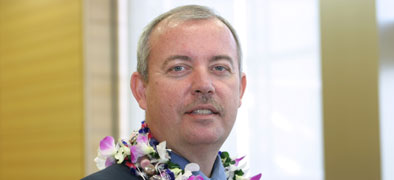 Last Word
After working, or even straight from an undergraduate degree, pursuing graduate studies will enhance skills and knowledge and open new career paths. As Neha and Keith testify their experiences both "in and out" of the classroom at APU have enriched their lives. They now embark on interesting new directions. We encourage you to take a look at our unique graduate programs.
APU awaits you...