From Saturday August 2nd through to Monday August 4th "APU Summer Camp" was held at APU. 90 highly motivated high school students gathered from all over Japan.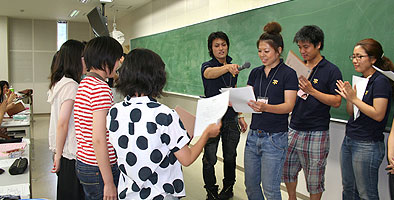 This educational camp is open to third-year high school students (Grade12). Participants in the intensive 3day-2night program deepen their understanding of international issues that are present in today's global society with APU students from around the globe. They also discuss how these issues will affect the future. This is the 9th year that the Summer Camp has been held. The participants are selected from a large number of applicants nationwide every year.
High School Students satisfied with the APU Summer Camp said, "I participated in this summer camp because I am interested in international exchanges. I was surprised that TAs (current APU students) have such a broad outlook." "The power and ability of the TAs was a help to us." "This camp is a great opportunity to learn about the way of studying in a University." Finally, Representative of the TAs, UENISHI Takahiro(APS3,Japan)said "I also participated in APU Summer Camp where I met great teaching staff members and old high-school friends. After enrolling in APU, I saw them again. The summer camp is not just one memory of summer - it is a place to meet lifelong friends." The participated high school students promised to see each other again at APU next spring as formal APU students.