On Friday September 19, the Ritsumeikan Center for Asia Pacific Studies (RCAPS) sponsored seminar was held at APU. This seminar welcomed the Chairman of Princess of Naradhiwas University Council, Professor Dr. Krasae Chanawongse who gave a lecture with the theme of "Leadership in a Changing World".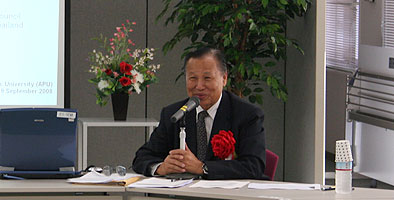 During the lecture Professor Chanawongse gave these words "Leadership is very important. Success in this world is 80% due to good leadership and only 20% due to technical know-how. Now, to be a good leader, you need to know and understand people, you first need to understand their social situation. You also need to have technical know-how. Here at APU you are very lucky because you can gain both technical know-how and have the opportunity to know a wide range of people and their situations. Learn from your peers and become great leaders of the future".
APU President Monte CASSIM also attended, mixed with the other attendants and listened earnestly. Those who attended the lecture were seen listening with great interest to Professor Chanawongse and his talk about the importance of leadership, the know-how you need and what it takes to be a future leader, and of course, his specialist subject Public Health.
Professor Chanawongse has had a shining career in the Kingdom of Thailand as the Minister of Foreign Affairs, Minister to the Prime Minister's Office, and Advisor to the Prime Minister. In 1973 he received the Ramon Magsaysay Award which is the Asian version of the Noble Prize. Professor Chanawongse attended the Entrance Ceremony held in the morning of the same day at APU where he gave a few words of greetings.