On Saturday, September 20, the Award Ceremony for the "The 8th Ritsumeikan Essay Contest" for high school students was held at the APU Convention Hall.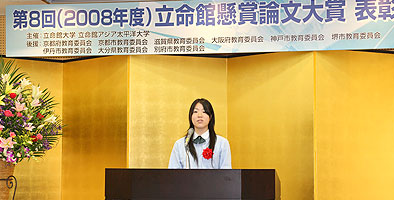 The 8th Ritsumeikan Essay Contest, which was conceived as a place where the youth who will carry the coming generation can express their thoughts and questions to the world, is now in its 8th year. Of course the contest attracts a high level of interest from within Japan, but also from Asia, Africa, Europe and North America. Every year the contest attracts many excellent essays – this year there were 790 entrants.
In attendance at the Award Ceremony were the prize winners of the APU Short Essay in English Division currently in Japan and their parents, and from APU; Vice President WAKABAYASHI Hiroo, Junior Lecturer Simon BAHAU, and Dean of Admissions YAMOMOTO Susumu, who was on the essay judge panel. Vice President WAKABAYASHI praised the efforts of the winners and handed them their awards saying "when writing an essay, setting a theme you have an awareness of and writing it persuasively requires intelligence, stamina and perseverance. The ability to build up and polish an essay again and again is extremely valuable in your studies at university, but also when you enter society."
Accepting these words on behalf of the prize winners, Eishin High School (Hiroshima Prefecture) 3rd year student TAWAMOTO Megumi, winner of the APU Short Essay in English Division, gave a few words of thanks.
After the Award Ceremony an exchange meeting was held at the Pacific Café, where the winners from around Japan, their parents, and the people involved from APU deepened their friendship.
The Ritsumeikan Essay Contest homepage:
http://www.ritsumei.ac.jp/acd/ac/koudair/koukou/essay/index.html