From Monday September 22 till Friday 26, 31 3rd year students of the SELHi Course took part in the "Ritsumeikan Uji Senior High School SELHi Joint Program"held at APU.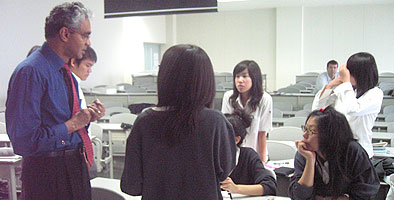 This program for Ritsumeikan Uji Senior High School 3rd year SELHi Course students has been held on Campus as a Higher Education Partnership Course since its creation in 2003 and has been held every year.
This year the students learned about the aging population situation in Japan and the world, and the issues facing disabled people through English lectures starting with President CASSIM and other faculty staff, and workshops with international student TAs (Teaching Assistants) under the theme of "The Elderly and Disabled in Society".
The students also went with the TAs into Beppu City on field work trips to look at issues facing the elderly and disabled in their lives based on what they learned from the lectures and workshops. Then at the presentation on the last day they announced their proposals for the issues they found.
During the program the SELHi Course students stayed at AP House, where APU students spend their dormitory life, and spent 5 productive days of university life as APU students.