On Friday, September 5, The "Fureai Talk" or community meeting was opened in Uchinari, Beppu-city to provide an opportunity for direct communication between the governor and the members of the community and Governor of Oita Prefecture HIROSE Katsusada visited the Holiday House in Uchinari.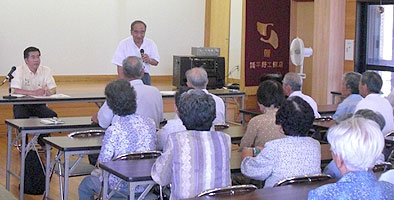 The Holiday House is a long-term accommodation facility (holiday house) in the form of an old house being developed by Long Stay Beppu (LSB) together with the village community and aims to revitalize domestic long-stay tourism. This project has received an Aid Grant from Oita Prefecture.
In addition to approximately 50 Uchinari residents, 2 members of LSB also participated in the "Fureai Talk" where a lot of issues regarding Uchinari were raised and discussed. Among those, the Holiday House project was raised and received high interest and a lively exchange of opinions took place.
Governor Hirose came up to the second floor of the house which was still under construction and was impressed with the wonderful beams and old wooden window-frames of the 100 year old house. He then gave these words of encouragement "I feel very relaxed in this house. It feels very nostalgic. It is thanks to your hard work that this has come so far. I look forward to its completion very much".
Representative of LSB Satoru SANO (APS3 Japan), who showed people around the Holiday House, said "I feel that this long-stay Holiday House regional development which utilizes Uchinari's beautiful terraced paddy field scenery as advocated by LSB is progressing smoothly with Industry-Academy-Government collaboration. I want to work in the association's management to put student knowledge and strength to even better use".
The research over many years by LSB to create this business model providing an affordable and comfortable one month holiday home which LSB believes will play a role in the revitalization of domestic tourism, produced the result where the local residents created a parent organization to manage the Holiday House which is contributing to the activation of the region. LSB has borrowed the strength of the public administration and the funds for the opening of this project were procured from Oita Prefecture, the Ministry of Land, Infrastructure and Transport, and Beppu City.
The LSB Homepage
http://www.longstaybeppu.net/
For further details about the Holiday House Project
http://www.longstaybeppu.net/modules/project1/index.php?content_id=