On Friday 26th September, the "2008 Fall Semester AP House Welcome Ceremony" took place in the Millennium Hall for all new students moving into the dormitories this fall.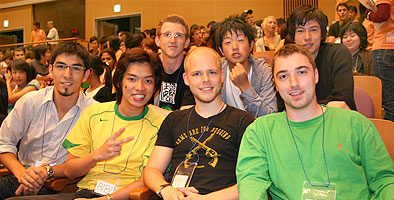 More than 600 new boarding students together with the AP House Resident Assistants (RAs) attended the event, and the ceremony opened with a performance by the Japanese drum groups, Wadaiko"Raku".
To begin with, FUKUI AP House Master offered words of encouragement to the new boarding students,"Understanding others leads to self-understanding and an understanding of your country. Please don't stay in your rooms; develop yourself by utilizing the collective AP House".
This was followed by a speech from LIM Da Jeong (APS1, Korea), who spoke on behalf of the new AP House boarders, describing her hopes for life in the dormitory, "Through the experiences at APU, I want to deepen the links between knowledge and the world. Let's enjoy life at AP House and utilize life here as much as we can so that we can have a better future".
After the Ceremony, which ended with an introduction of related parties and RA's, a welcome party hosted by President CASSIM was held at the Cafeteria where the new residents introduced each other and expanded their dormitory life.