On Wednesday October 8, the "Autumn New Entrants Welcoming Performance" was held at the cafeteria by the APU Wind Orchestra.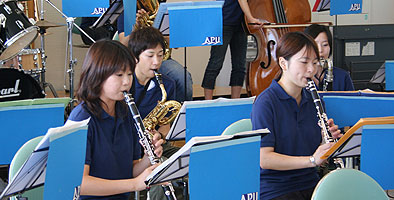 This performance was given to welcome the new students who entered APU in September. The Wind Orchestra gave renditions of such pieces as "Disney's Fantillusion" and "The Theme to Lupin the Third".
Many of the students and staff that came to the cafeteria stopped eating and were seen listening avidly to the well known pop melodies.
The APU Wind Orchestra was established in 2002 and currently has 59 registered members including approximately 10 international students. They practice 3 times a week mostly at the APU Multipurpose Hall. They perform regularly on and off campus at such events as the Welcome Festivals, Tenkusai, the Annual Concert held in December, and also at the Station Concert at the JR Beppu Station. Furthermore, they represented Oita Prefecture at the "53rd Kyushu Wind Orchestra Competition" held in Okinawa and of the universities in Oita, boasts one of the best performing techniques.
Please click
here
for more details about the Wind Orchestra participating in the Kyushu Wind Orchestra Competition.