The "Yomiuri Shimbun Special Lecture" has again begun this year as one of the autumn semester special lectures. These lectures have been held every year since 2005 and aim to deepen knowledge of the current situation in Asia, the world and, of course, Japan through newspaper reporting. Every week lectures are held under various themes with lecturers who are staff members at the Yomiuri Shimbun.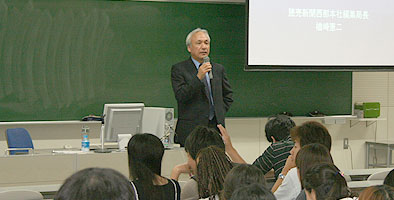 The first lecture, held on Friday October 3, greeted Managing Editor NARAZAKI Kenji of The Yomiuri Shimbun, Seibu. At the lecture, entitled "The Principles of Newspaper Journalism", he talked about aspects regarding the history of newspapers, the role of newspapers and how newspapers differ from other types of media.
During the lecture, Mr. NARAZAKI said "It is rumored that young people are becoming distanced from news papers. The fear is that by concentrating only on information of interest can make society's foundations as a community unsure. Rather than seeking one or the other to gain predominance, we should be aware of information's respective characteristics and need the skills to use them all appropriately".The students at the lecture showed a heightened interest in journalism and were keenly taking notes.
These 14 lectures by 14 different people will be held every week until January 23, and through them the ability to look deeply at current events occurring in Japan and the world, then understand and analyze the information, will be fostered.