On Thursday October 16, 2008, Jacob Dickie NKATE, Minister of Education of the Republic of Botswana and his entourage visited APU and a signing ceremony was held for the conclusion of the partnership agreement regarding the dispatch of exchange students.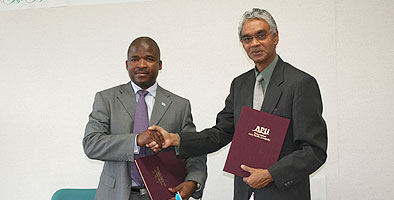 At the signing ceremony Minister of Education, Mr. Jacob Dickie NKATE said "Botswana is a country blessed with natural resources such as diamonds, the funds from which we are using for the benefit of the country in areas such as education and public health. However, we cannot rely on diamonds forever. Therefore, to create a sustainable Botswana for the future, we need to invest in education. This agreement with APU will be very beneficial for us as we can learn the know-how needed in the field of education and it also illustrates our country's affiliation with reputable international universities. We hope that via this agreement students from Botswana, upon their return to our country, can contribute to Botswana's development." To which President Monte CASSIM replied "I hope that this agreement proves to be the start of a successful and co-operative partnership. We hope to have more international students from Botswana studying here at APU".
The Republic of Botswana Ambassador to Japan His Excellency Mr. Oscar MOTSWAGAE is a member of the APU Advisory Committee and is providing his assistance to APU. Furthermore, in March 2007, a student exchange agreement was concluded between APU and the University of Botswana. APU has accepted 1 exchange student from the Republic of Botswana.
Through this partnership agreement regarding the dispatch of exchange students, the Republic of Botswana becomes the 19th country/region to be affiliated with APU. It is hoped that the cooperative relationship between APU and Botswana with continue to strengthen in the future.