On Wednesday October 15, 2008, the Training Debriefing Session for the LCS (Language and Culture Studies Institute) Hawaii Field Study was held in classroom F301.
Participants in The Hawaii Field Study were selected from 3rd year Language and Culture Studies Institute students. The field study was held from August 23 till September 6. The 11 participants stayed at a University of Hawai'i student dormitory and participated in a University of Hawaii, School of Pacific & Asian Studies special program. They attended lectures on such subjects as Hawaiian history, language and culture.
The participants carried out investigations and research inline with the theme they decided prior to these activities. They then presented their findings using images.
One student took up the traditional Hawaiian Hula dance as their theme and gave a presentation of the history of Hula dancing and how the dance expresses the hearts of Hawaiians. She described her impression of having a try at Hula dancing as "very difficult, but the dancing was fun and I felt very happy".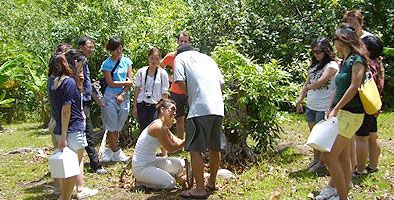 During their stay they visited such places as Pearl Harbor, Iolani Palace –the only palace in the USA, Waikiki Beach, and inspected taro fields – a specialty of Hawaii. This was a chance to learn extensively about Hawaii, not just as a tourist destination.
Various schools at APU such as CAP are utilizing the summer and winter sessions to initiate field studies. The summer of 2008 has proven to be an opportunity to improve one's specialist knowledge of both domestic and international destinations such as Thailand, Japan's Kyoto and Niigata, as well as Hawaii.