On Saturday October 25 and Sunday 26, the "2008 Beppu Eco-life Plaza" was held at the Reception Hall on the 1st floor of Beppu City Hall. The members of the BEPPoo!! eco-bag promotion project gave out their eco-bags featuring original designs for free.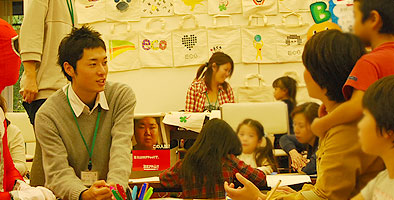 The Beppu City Environment Division hosted "2008 Beppu Eco-life Plaza" had 'Global Warming Prevention' as the main theme – the same theme was taken up at the G8 Hokkaido Toyako Summit 2008 - and was held aiming to increase environmental conservation awareness among the citizens of Beppu City. As well as the distribution of eco-bags, many planned events relating to the environment were held such as displays of children's environment artwork and essays, displays of student eco-club activities, environmental story telling with picture cards, and a competition for re-cycled goods.
The BEPPoo!! eco-bag promotion project, in collaboration with students from Beppu Mizobe Gakuen College, aims to spread eco-promotional activities in Beppu from the standpoint of a student and is managing an internet portal web-site where you can access information about Beppu. Their aims are to distribute their original design eco-bags and the activation of Beppu.
The BEPPoo!! Web-site:
http://www.beppoo.com/
For details about the eco-bag promotion project:
http://mizobeppoo.jugem.jp
Link to previous news article featuring the eco-bag promotion project:
https://www.apu.ac.jp/home/news/article/?storyid=846