APU's legendary "Language Week" series will kick-off with Spanish Week commencing April 25, 2005.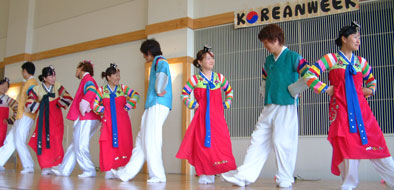 The goal of our Language Weeks is to deepen the knowledge of culture and traditions of six Asia Pacific countries whose languages: Chinese, Korean, Malay, Indonesian, Spanish, Thai and Vietnamese are offered at APU. New students who enter in Spring commence their studies of an Asia Pacific language (AP language) from the Fall Semester. These events assist new students in electing a language to pursue at APU, and enable them to experience first-hand the multi-cultural environment on campus.

The first Language Week will be Spanish Week, starting Monday, April 25 until Friday, April 29. Domestic and international students from Spanish-speaking countries such as Costa Rica, Ecuador and Spain are currently working hard on the preparations. Ethnic costumes and folk instruments will be on display in the cafeteria and stage performances will be held in the Millennium Hall.
Numerous stage events are planned including a guitar performance by students from Iwata Gakuen, Oita City; South American music played with folk instruments; and
quena
a dance from Seville. All of the events from Spanish-speaking countries are not to be missed! And don't forget the fashion show where audience members can try on soccer uniforms and ethnic costumes!
MIYAJIMA Mahito (APS 3), a representative of the APU Dance Group "Chispa Latina" said "The dancers hope to bring the stage alive with their passionate dancing" and encourages everyone to come and enjoy the entertainment together.
Spanish Week Stage Events
Date and Time:April 29 (Fri) 18:30-
Vanue:Millennium Hall
Entrance fee:FREE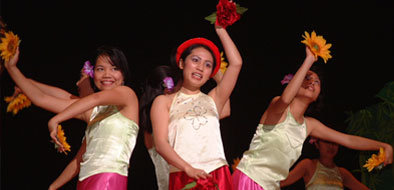 The schedule for Language Week is as follows:
May 2 - 6 Chinese Language Week
May 9 - 13 Korean Week
May 16 - 20 Thai Week
June 6 - 10 Malay & Indonesia Week
June 13 - 17 Vietnamese Week
During the Korean Week, Ra Jong-yil, Ambassador, Republic of Korea is scheduled to make a visit to APU.