PRENGO visits Thailand for the Second Time
When Members of PRENGO visited primary schools in Thailand during their Spring Vacation in 2004, they realized that the most important way to attend to the educational needs of children was to firstly fill their stomachs. When PRENGO members asked the principals what students needed most, the answer was always the same: "Food". With this in mind, PRENGO members headed off to Thailand on January 30, and for 17 days they worked to improve the food supply to Thai students.
Starting with the Foster Parent System
PRENGO, a registered APU circle, was formed to transcend national borders and carry out work that improves the educational standards of children.
After the first trip to Thailand, PRENGO started the Foster Parent System to provide economic support, and each member became a foster parent to a child from one of the schools they had visited. Most of the fostered children are orphaned, or their parents are unemployed or have trouble maintaining steady income due to the harsh economic climate.
According to a PRENGO member, "The Foster Parent System provided some temporary relief, but it wasn't the fundamental solution to their problems." PRENGO conferred that regional development was necessary to create an environment where parents were able to work, and decided that the "One Village, One Product Movement" (OVOP) was the method for reform.
Management and Practice of OTOP
The One Village One Goods Movement (One Village One Product) is widespread in Thailand and often referred to as "OTOP" (One Tambon One Product - Tambon indicates an administrative district in Thailand). During the visit, PRENGO members carried out survey research, inspected local areas and spoke with local researchers to ascertain a suitable OTOP into which they could direct their energies.
The important questions they considered were: Can the OTOP be established in the area that they support? Will the parents in the district be able to acquire the necessary skills and carry out the work? And will the product be able to provide an income for the workers? A number of facilities were looked into and it was deemed that an orange juice factory had the most potential.
After returning to Japan, PRENGO planned to get the orange juice factory up and running by the end of this year. In thinking about a long-term strategy it was deemed necessary to not only think about establishing capital, but appointing a person to a leadership position in the region, and to investigate how the construction of the factory will bring changes to the area. Through the extracurricular activities of PRENGO, the members hope to put into practice what they've learning about Management and Regional Development at APU.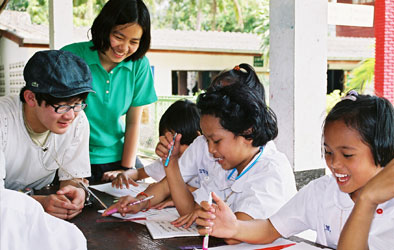 Some last words from PRENGO
In recognition of its activities, PRENGO was selected by SONY Marketing Inc, for the 4th SONY Marketing Student Volunteer Fund. PRENGO used the subsidy during their recent Thailand study-trip and will report their findings in June this year.
WAKABAYASHI Yasuhiro (APM3) one of the founding members of PRENGO, said that he hopes to make PRENGO's works his life. And when asked what he finds the most motivating, he at first hesitated to voice it, but said it was about "love".
WAKABAYASHI continued, "The children are lacking in food and education, but I really feel that they're starved of love the most." During the visit, as I saw how the children clung to their foster parents, I realized it was our calling to do what we can to create a more positive future for each and every child under our care. With that thought in mind, it came to me that we are not bringing just food and supplies, but bringing our love to share as well.