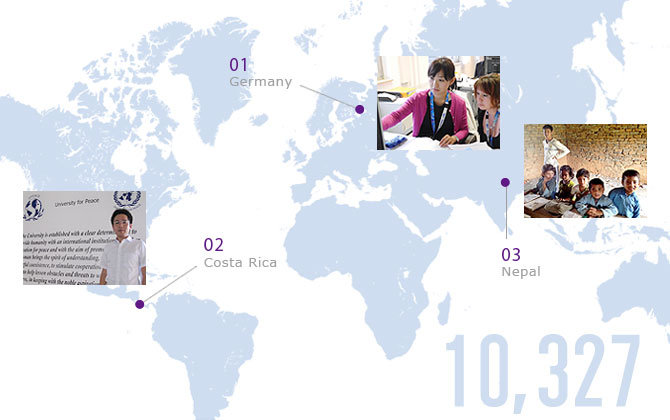 A network bound by ambition and dreams that continues to expand worldwide:
APU graduates continue to work towards the goal of creating a more peaceful and plentiful world.
APU's "DNA," a force that emboldens students to proactively open up and define the next era, is being spread throughout the world through our graduates since sending off the first batch in 2004.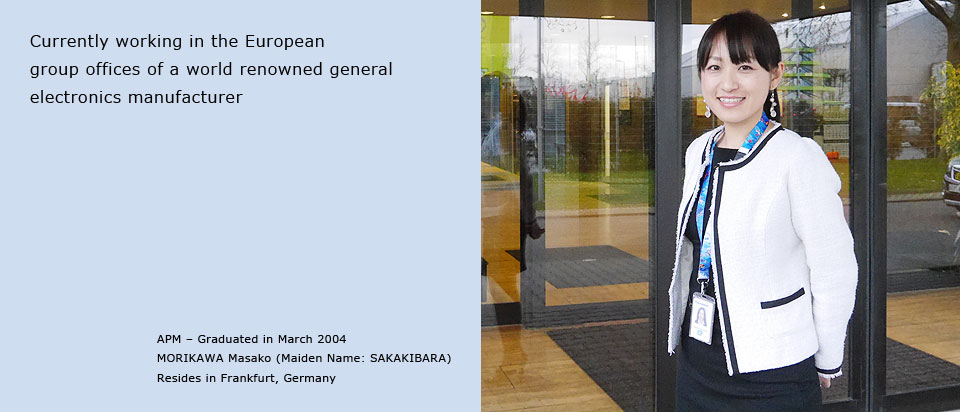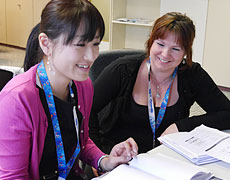 In the office with her colleague from Poland who she is also friendly with outside of work.
Her husband is also an APU graduate who is currently residing in Singapore for his own profession. They strive for a relationship based on mutual understanding that will allow each other to pursue the career of their dreams.
 Japanese industries have long used their manufacturing prowess as a means to increase their worldwide presence. MORIKAWA Masako works as a Manager at an overseas corporation of a Japanese electronics manufacturer – an industry which could be said to be one of the biggest industrial pillars of Japan. She is in charge of corporate assistance to Europe and the CIS Region and says that, "My job involves being aware of the financial status of over 40 Panasonic corporate groups in the regions that I am in charge of, and reporting those figures and any issues back to the Panasonic main offices in Japan." A large part of her job deals with accounting which essentially serves as a compass in leading the corporation in the right direction. She says, "I joined this company as I had always wanted to work overseas. I am now able to relish the true pleasure of an international position through past experiences such as working at a distributor in Finland and auditing affiliated overseas companies."
She had active exchange with international students while at APU and believes that she cultivated an "international perspective" by being respectful of others and trying to think about things from the perspective of others. "I think that one of the most important skills that I gained at APU is the ability to be able to talk to anyone regardless of their race or gender which has greatly helped me in my current job as I must cooperate with people of varied nationalities. I also feel like I might have gained some courage by having to communicate with many different types of people. In my line of work, I often have to deal with many higher-ups who are in senior management level positions, yet I am often told that I come across as very self-assured. I want to put to use the abilities that were further enhanced on the APU campus, a place where many unique personalities come together, and use those skills to undertake new challenges from here on. It is also a goal of mine to conduct myself in a way that I will serve as a role model for other female employees." Lastly, she passionately implored all APU students to "use those 4 years of various challenges on the APU campus, and then spread your wings and test your capabilities in the greater world!"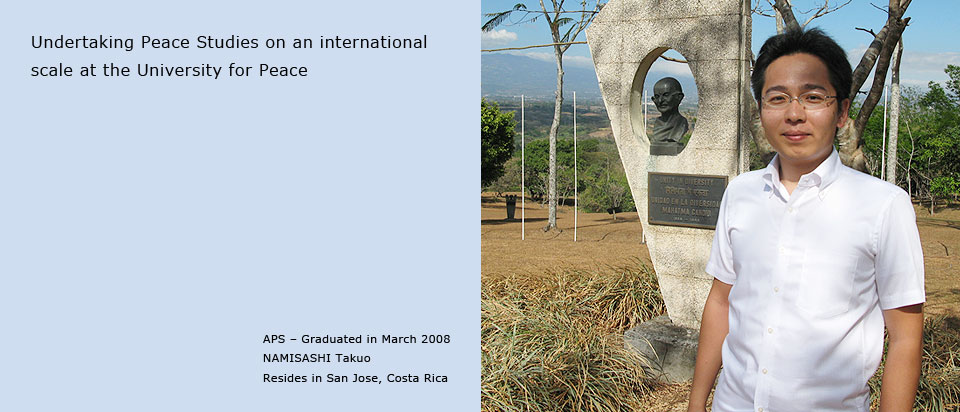 Pictured with APU graduate Morse Flores who works at the United Nations in Geneva, Switzerland. Morse Flores visited the University of Peace to give a lecture on indigenous people's governments and a career seminar for students aiming to work at the United Nations.
 Costa Rica – a country that looks out over the Caribbean Sea. The main campus of the United Nations mandated University for Peace is located about 20 kilometers to the west of the Costa Rican capital of San Jose. The University for Peace is a place where the world's elite gather to conduct specialized research on international law, national security issues, etc. NAMISASHI Takuo is currently doing a Master's Degree Program in Peace and Conflict Studies and is conducting research on the topic of "Japanese Peace Studies." He says, "I am researching the history of Japanese ideology regarding peace and how Peace Studies was developed. I am using a lot of literature written in Japanese and translating it into English. I feel like there is significant meaning in being able to transmit information from a university that specializes in Peace Studies regarding 'peace from a Japanese perspective.'" The goal of his graduate school career is to transmit ideas about this "Japanese Perspectives on Peace" through a deeper inspection of Japan's history of war, after using various methods to test for validity.
"I found information on the University of Peace on the United Nation's home page which was the impetus for me to enroll. I was always interested in doing something that would allow me to aid in the protection of people and had actually gone on to work at a disaster prevention /security firm. I found, however, that my desire to study about the hope for world peace could not be extinguished, which is why I am here now," he explains of his decision to enroll. He goes on to say, "I found APU to be a very stimulating environment. I believe that my time spent with students who were actively challenging themselves has contributed to the broad outlook that I have today. It is necessary to use an approach from a multilateral perspective to resolve complicated disputes that involve competing interests and I feel like the skills that were fostered at APU are now being put into use in the international peace studies stage. I want to conduct fieldwork in various places and begin to redefine what "peace" means. In the same fashion as other APU graduates who are working in areas of conflict, I want to be able to go on-site as a researcher and make contributions to world peace." This is the future that he is striving for.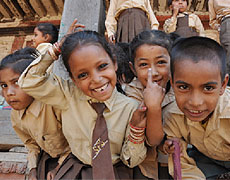 Constructing schools with local people and working on the administrative infrastructure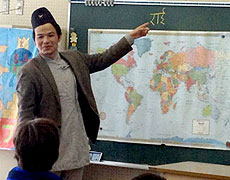 Sharad Chandra Rai visiting a school in Japan to introduce what school is like in his home country
 There are an insufficient number of schools in the rural parts of Nepal and it is not uncommon for children to have to walk two hours to get to school. There are also larger societal issues at play, such as children from lower castes being unable to attend school and poor attendance from girls who must stay at home to help with household chores. The YouMe Nepal Trust is an NPO that was established by two APU graduates – Sharad Chandra Rai and Dinesh Prasad Joshi. Fund raising activities have been employed to support their goal of being able to provide high quality education to all Nepalese children, with the money being put towards the construction of schools. "I was born in a poor village, however, I received a scholarship from the government and received an education, which resulted in my enrollment at APU. This is one of the ways in which I am trying to give back to my country," says Sharad Chandra Rai. There are plans to build a school in the Eastern district of Khotan where he is from, in addition to plans to build a junior high school a year later where students will be able to study in English. They are currently working to get plans in place to build libraries in farming villages and hoping to establish a scholarship system. Guests like the Ambassador of Nepal to Japan were invited in their charity events and they are continuing to widen the scope of their activities.
The two are passionate in their thoughts regarding what the most important things are in making this world a better place. "First, it is important that you don't live for yourself, but live for other people who are in need. Secondly, it is important to know a world without borders. We hope that all students will spend a fruitful 4 years at APU."