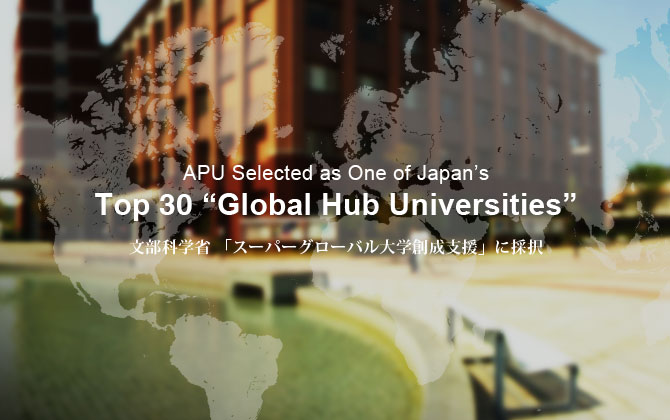 This is to announce that APU's application was successfully selected for the 2014 "Type B: Leading Global Type" category of Japan's Ministry of Education, Culture, Sports, Science, and Technology's "Top Global University Project." Below is a message from the President with regards to APU's program selection.
【President's Speech】
I am pleased to report that APU's application was selected for "Global Learning: Toward New Horizons in University Education" under Japan's Ministry of Education, Culture, Sports, Science and Technology's "Top Global University Project." APU has been unwaveringly dedicated to education and research over the past 15 years since APU was founded in 2000 thanks to tremendous support from Oita Prefecture and Beppu City, and our faculty and staff have banded together to overcome numerous difficulties during this time. APU has continued to test the limits. In a multicultural environment with a student body composed of 50% international students and half of our faculty from overseas, that is unlike any in the world, APU has introduced a Japanese-English dual language education system and a dual enrollment system with entry in both the spring and fall. I believe that our selection for this project is a recognition of our unwavering devotion to the fostering of global human resources.
 However, these accomplishments are merely waypoints. I want to continue to foster human resources here on the APU campus, which is essentially a microcosm of the world, who respects others, who accepts differences, and who can create new values through cooperation and discussion with others to overcome conflict when it arises. As a university that places the utmost priority on the growth and success of its students, we will continue to implement quality assurance measures in addition to initiatives to improve education and research of international standards, and create a Global Learning Community that is recognized as being the best in the world.
 Using this project selection as a new starting point, APU resolves to transform itself by making a huge leap from its reputation as a pioneering international university in Japan to a university that is respected and chosen over others world-wide and we fully intend to ceaselessly work to make this happen.
 We will strengthen our collaboration with Ritsumeikan University who was also selected for this project, and we will work together on this grand challenge befitting the Ritsumeikan Academy in hopes to contribute to internationalization efforts within Japan and world peace.
 Your continued understanding and support of APU is truly appreciated.
September 26, 2014
Ritsumeikan Asia Pacific University
President, KORENAGA Shun