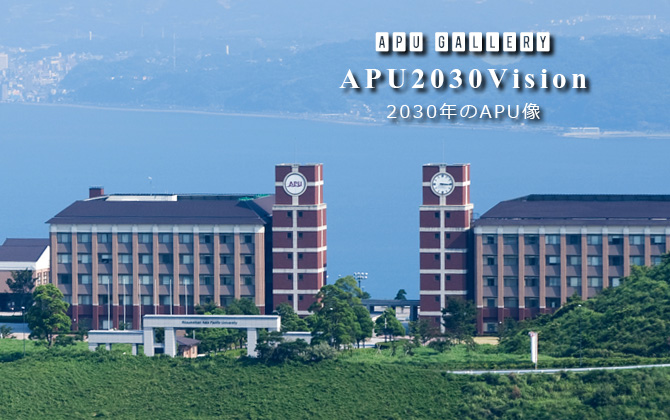 APU has brought together students, alumni, parents, faculty and staff to work together and create the "APU2030 Vision". Based on the Declaration on the Occasion of the Opening of Ritsumeikan Asia Pacific University, "APU2030" expresses the direction APU aims to take towards 2030. Below is a message from the President.
APU2030Vision

【President's Speech】
Together with our students, faculty, staff, alumni and other stakeholders, we have formulated the APU2030 Vision (i.e., a vision of what APU will be like in 2030 and a vision of what we want APU to be like in 2030) and Pillars of the APU2020 Second Half Plan (i.e., an action plan for AY2015 ~ AY2020 aimed at realizing the APU2030 Vision)
Since APU opened in 2000, the situation surrounding the world's universities has changed dramatically. Now, students can freely select the universities where they want to study from among a plethora of options. At APU as well, we cannot remain satisfied with past successes and the status quo; we are stepping into a new stage as a leader of university globalization. The first step in this new direction is the APU2030 Vision. It is the result of discussions on what APU will be like 10 to 20 years in the future and the kinds of human resources APU will develop on its unique multicultural campus.
One thing that should be noted about the APU2030 Vision is that it was formulated not only by faculty and staff, but with the involvement of our diverse student body, our alumni active throughout Japan and around the world, and various other stakeholders who have supported APU over the years. For approximately one year starting in March 2014, we collected opinions from our stakeholders through direct discussion sessions and over the internet. These stakeholders provided frank opinions from their respective viewpoints and expressed strong expectations for APU, and the APU2030 Vision could not have been formulated without these invaluable comments.
The APU2030 Vision boldly proclaims that "APU graduates possess the power to change our world" before declaring that they "will pursue freedom and peace with a deep respect for human dignity" [and] that "by acting for the sake of both individuals and society, they can change the world". The APU2030 Vision also presents a picture of a 'Global Learning Community'—a campus where we cultivate people who can overcome conflict and friction through dialogue and negotiation, instead of violence. Expanding on the educational systems we have developed to date, we aim to validate the effectiveness of our education and enhance its international compatibility.
We believe that APU will remain a university that contributes to creating the future, so we will endeavor wholeheartedly to realize the APU2030 Vision and continue producing talented human resources who will contribute to creating the future of the Asia Pacific.
Ritsumeikan Asia Pacific University
President, KORENAGA Shun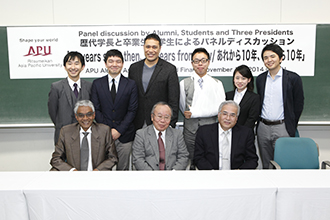 Panel discussion by Alumni,
Students and Three Presidents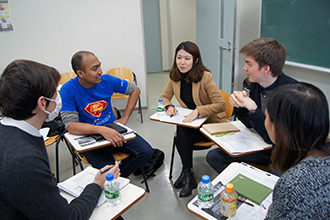 Discussion among the President,
current students and staff members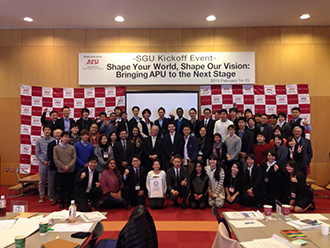 SGU Kickoff Event
Related Link:The APU2030 Vision