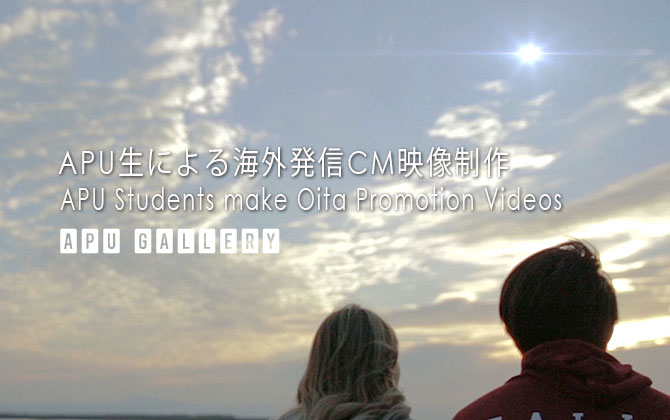 Promoting the appealing parts of Oita to the world based on foreigners' viewpoints and sense
A presentation was held on Wednesday, November 4, 2015, for the Oita Promotion Film Making Project.
This project, which started last year, is organized by Oita Prefecture to promote the charm of Oita overseas. A total of six groups participated with two global teams as well as teams from Vietnam, Thailand, Taiwan, and Indonesia. All teams mainly consist of international students.
Each team created a commercial in the language of the target country with English subtitles.
"Team Thailand" took the top prize this year with their commercial about an alien girl falling from the sky and being guided around Oita's famous sites by an international student who has lived in Oita for one year. The commercial portrays a unique and romantic love story as the pair grows closer to each other.
Director HORI Toshiro of the Oita Prefectural Government International Policy Division attended the presentation and spoke about how impressed he was by the students' work. "I was surprised at the high quality of the commercials and could not believe that they were created by students. We look forward to using these commercials in many places."
All of the videos created for this year's presentation will actually be used as commercials to promote Oita prefecture overseas.
They are now released on YouTube, so please watch and share them with your friends!
Oita Prefectural Government International Policy Division site:
http://www.pref.oita.jp/soshiki/10140/oitapromotionvideo.html
You can click on the image below to watch on YouTube.
Reporter, Student Press Assistant (SPA):
UCHIYAMA Midori (Japan)