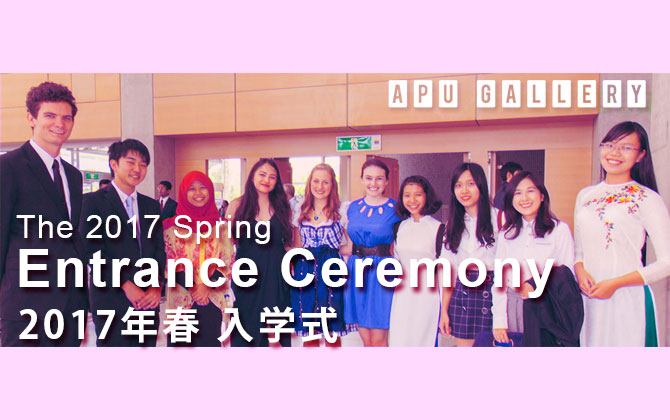 The Spring Class of 2021 Takes Their First Step to Becoming World Citizens
APU will hold the entrance ceremony for the 2017 spring semester at B-Con Plaza in Beppu City, Oita Prefecture on Saturday, April 1, 2017. This semester the University will welcome new students to a student body unique in its mix of half domestic and half international students *.
The entrance ceremony is a day of celebration that marks the beginning of a new life in Beppu for students starting at APU. The ceremony is joined by current students who give a range of performances during the ceremony, including traditional music.
These new students will bring their dreams and ambitions to APU's multicultural campus, a microcosm of the wider world. They will gain a wealth of diverse experiences as they work alongside classmates from across Japan and around the world, developing skills under the tutelage of a likewise diverse and international faculty.
For friends, family, and other well-wishers unable to attend in person, the ceremony is broadcast live online via Ustream (being August 1, 2018, playback via Ustream is no longer available).
*The term "domestic student" includes Japanese citizens and foreign citizens in Japan with a residential status other than college student. The term "international student" refers to those students in Japan with a college student visa.