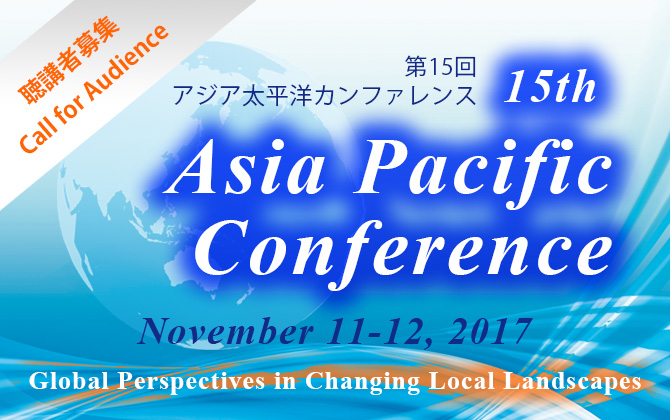 What is the Asia Pacific Conference?
The Asia Pacific Conference began in 2003. Every year, the conference features keynote speeches from well-known researchers and prominent individuals on cutting-edge research and current development issues in the Asia Pacific region. There are also panel session presentations at the conference that encompass a wide range of topics. During the Asia Pacific Conference 2016, about 500 participants came from 20 different countries and regions. We are currently calling for audience members for the 15th Asia Pacific Conference, which has the theme Global Perspectives in Changing Local Landscapes.
Date:
Saturday, November 11, 2017 - Sunday, November 12, 2017
Place:
Ritsumeikan Asia Pacific University
Conference Theme:
Global Perspectives in Changing Local Landscapes
Language:
English (some panel sessions will be held in Japanese)
Audience Registration:
Admission to the conference is free. Audience members may attend the reception on November 11 for a fee.
Those who would like to attend the conference as audience members can register through the RCAPS website.