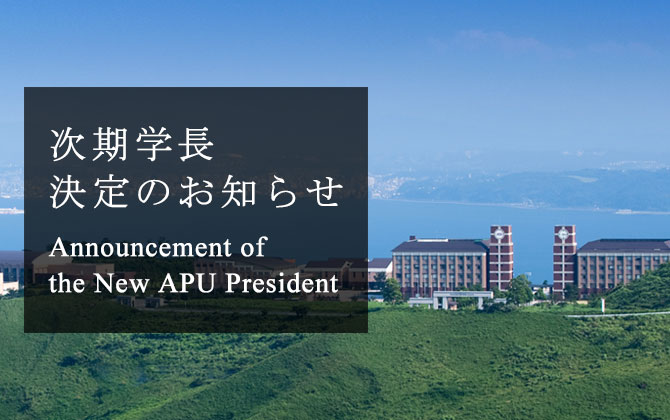 The current President of APU, KORENAGA Shun, will complete his term on December 31, 2017. In order to find a successor, APU formed its first-ever presidential search committee that accepted candidates from the general public.
On November 24, the Board of Trustees of the Ritsumeikan Trust has decided that Mr. DEGUCHI Haruaki will be the next President of APU, with a 3 year term to begin on January 1, 2018.
The President-select: DEGUCHI Haruaki
A Message from the President-select
Before founding Lifenet Insurance Company in 2006, I served for two years as an advisor to the Office of the President at the University of Tokyo.
At that time, I realized that universities are the competitive power of society's future, and it opened my eyes again to the importance of education and research.
In a world where globalization is advancing, being selected as president of APU—one of the most advanced universities in Japan when it comes to globalization—is both a great honor and a great responsibility.
Bringing together highly motivated students and high quality faculty and staff is more important than anything, and it is the duty of university management to develop an environment that enhances the quality of education and research, including strengthening the financial foundation.
To achieve this, it is essential that we collaborate closely with students, faculty, staff, and alumni, as well as other stakeholders including Kyushu, Oita Prefecture and Beppu City.
I want APU to become a university that contributes to solving problems of a global society. To achieve this, I intend to focus as much of my experience and knowledge as possible on developing APU.
November 24, 2017
DEGUCHI Haruaki
The President-select: A Profile
Mr. DEGUCHI Haruaki was born in 1948 in Mie Prefecture. After graduating from the Faculty of Law at Kyoto University in 1972, he joined Nippon Life Insurance Company. He served as the founding financial planning special committee chairperson for the Life Insurance Association of Japan, engaged in financial system reforms and revising insurance business law. After serving in other positions including president of the London-based subsidiary and general manager of the international business department, he retired from Nippon Life Insurance Company. Beginning in 2005 he served as an advisor to the Office of the President at the University of Tokyo for two years.
In 2006 he founded Netlife Insurance together with someone 28 years younger, Mr. IWASE Daisuke (now current president and managing director of Lifenet Insurance), serving as president and managing director. Acquiring a life insurance license in 2008, they established Lifenet Insurance—the first independent insurance company to open in Japan in 74 years.
Under the philosophy of supporting households raising children, Lifenet sold insurance over the internet for about half the price of major insurance companies. Lifenet also achieved a first for the industry by disclosing all fees included in insurance premiums. In 2012, Lifenet was added to the Tokyo Stock Exchange's list of Market of the High Growth and Emerging Stocks.
Mr. Deguchi assumed the role of Chairman and CEO in 2013, and since June 2017 he has been engaged as company founder in Lifenet Insurance PR activities and in fostering young talent within the organization.
Major publications include:

Seimei hoken nyūmon (Introduction to life insurance). Iwanami Shoten, 2004 (New edition: 2009).
Chōkyū shōbu no kaisha (A winning company). Diamond, 2009.
Seimei hoken to no tuskaiaikata (How to live with life insurance). Iwanami Shinsho, 2015.
Hatarakikata no kyōkasho (A textbook for work). Shinchosha, 2014.
Jinsei wo omoshiroku suru honmono no kyōyō (Real general knowledge that makes life more interesting). Gentosha Shinsho, 2015.
Hataraku kimi ni tsutaetai "okane" no kyōyō (General knowledge about money for the working person). Poplar Publishing, 2016.
"Zensekaishi" kōgi I, II (Complete history of the world, Vols. 1 and 2). Shinchosha, 2016.
Shigoto ni kiku kyōyō toshite no "sekaishi" I, II (World history as an effective foundation for your work, Vols. 1 and 2). Shodensha, 2014 and 2016.
Sekaishi no 10 nin (10 people from world history). Bungeishunjū, 2015.
A Message from President KORENAGA Shun
Supported by the citizens of Oita Prefecture, APU has carved out a 17 year history, developing into an international university representing Japan. Looking toward the approaching 20th anniversary of its foundation, APU has been true to its ideals of freedom, peace, and humanity in a time of deepening confusion in the world. APU is a multicultural campus without peer, devoted to the development of talented global citizens.
In order to select the next president, APU took the bold step of accepting candidates from outside the university. After the careful consideration of many well-qualified applicants, I welcome DEGUCHI Haruaki as the next president of APU. Together with being a businessman that created his own company, Mr. Deguchi is also an excellent historian. We can be confident that his insightful leadership will lead APU to a new dimension. During the selection process I had the chance to meet Mr. Deguchi personally, and I consider him to be exceptionally wise. With Mr. Deguchi at the helm, I am sure that APU will transform into an outstanding university known not only throughout Japan, but all over Asia.
November 24, 2017
KORENAGA Shun
President
Ritsumeikan Asia Pacific University