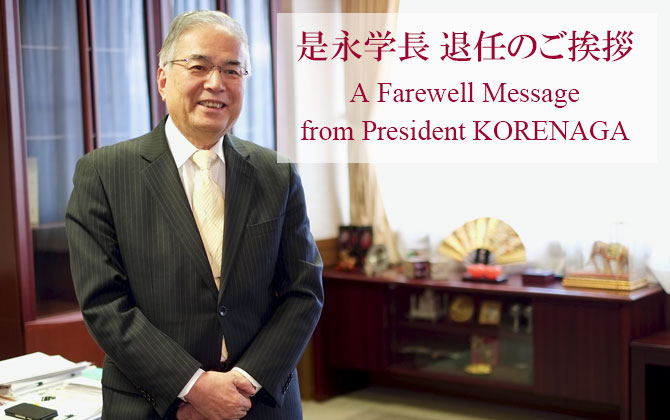 From January 1, 2010 to December 31, 2017, I have enjoyed the honor of serving as the president of APU, an international university that represents Japan on the global stage. I wish to express my deepest gratitude to everyone for their warm support and encouragement over these past eight years.
APU exists because of the tremendous support and cooperation from Oita Prefecture and Beppu City. Every year, around 800 students head out into the prefecture, embarking on a number of different projects and initiatives. I am especially grateful to the citizens of Beppu for watching over the students that reside in the city.
In 2014, the Ministry of Education, Culture, Sports, Science, and Technology selected APU as one of 37 universities in Japan designated as a Top Global University. In 2016, APU received accreditation from AACSB International, the Association to Advance Collegiate Schools of Business. This year, the UK-based Times Higher Education ranked APU as 1st in Japan in terms of our diversity, and 24th in the country overall. APU's curriculum is held to an international standard, and graduates of our programs are able to succeed in the business world in Japan and across the globe.
Please join me in welcoming Mr. DEGUCHI Haruaki as the next president of APU. He is an outstanding individual and comes to APU as a result of the bold step the University took in opening the presidential selection process to members of the general public. With Mr. Deguchi as president, I believe that APU will transform into a global university that represents not only Japan, but Asia as a whole. I hope that you will give Mr. Deguchi your unwavering support, just as you have supported me.
KORENAGA Shun
President
Ritsumeikan Asia Pacific University