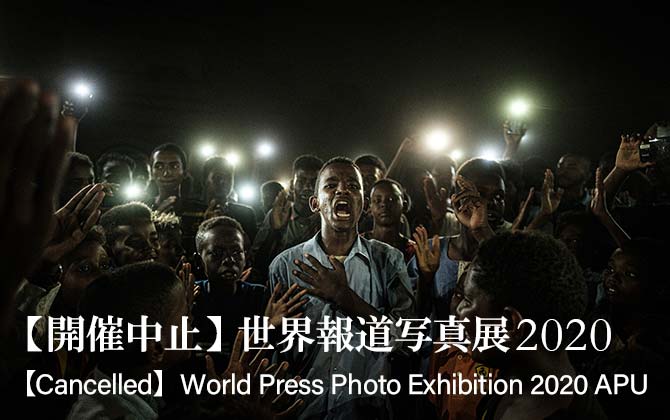 【Cancelled】World Press Photo Exhibition 2020 APU
Due to the spread of COVID-19, the World Press Photo Exhibition 2020 has been canceled.
This is disappointing news to all those who look forward to this event every year. APU hopes to host the World Press Exhibition as normal next year in 2021.
World Press Photo 2020
World Press Photo is an annual exhibition run by the Amsterdam-based non-profit foundation of the same name, featuring award-winning photographs from the World Press Photo Contest. Now in its 63rd year, the exhibition is a showcase of some of the world's very best in photojournalism. APU first hosted this exhibition in 2000 and has continued to host it every year since 2003. It is with great sadness that this exhibition has been canceled this year due to the onset of COVID-19.
This year, 44 prize-winning photographs were selected across eight categories. Each category (except for Long-Term Projects) is subdivided into "singles," and "stories" which comprise multiple photographs. Awards are given to the top three photographs in each subcategory. The jury selects one photograph from among the winners as the World Press Photo of the Year. The winning photograph of this year's grand prize was "Straight Voice" taken by former Asahi Shimbun photographer Yasuyoshi Chiba (born 1971 in Saiki City, Oita Prefecture) of AFP. This marks the fourth win in 41 years of the World Press Photo of the Year by a Japanese photographer since 1979. Furthermore, Daisuke Kurokawa of the European Pressphoto Agency (EPA) won second place in the Spot News category.
World Press Photo of the Year 2020

General News, 1st Prize Singles
「Straight Voice」
In the darkness of a power outage, youths with faces illuminated by cellphone light raise their voices to sing poems in protest of the government. Suppression of such anti-government protests by security forces have reportedly killed more than 100 people.
Photo by: Yasuyoshi Chiba (Japan, AFP)
June 3rd, 2019 - Sudan (Khartoum)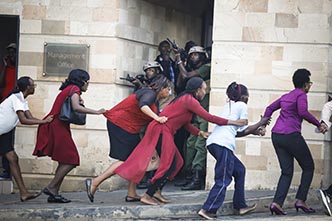 Spot News, 2nd Prize Singles
「Nairobi DusitD2 Hotel Attack」
A terrorist attack is made by armed Somali-based Islamic insurgents Al Shabab. In retaliation against US President Trump's declaration that Jerusalem be acknowledged as Israel's "capital," Al Shabab attacks a luxury hotel in Nairobi frequented by foreigners, as well as an adjacent commercial facility. Over 700 people were evacuated and roughly 50 casualties occurred.
Photo by: Daisuke Kurokawa (Japan, EPA)
January 15th, 2019 - Kenya (Nairobi)